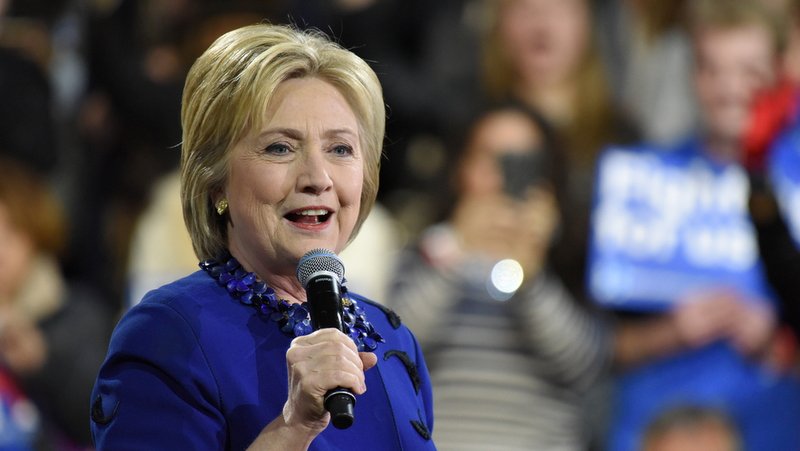 When Hillary Clinton rolled out her "New College Compact" while campaigning for the presidency in the summer of 2015, some critics scoffed at its pricetag: $350 billion over 10 years, to be paid for by closing tax loopholes for the wealthy.
As originally proposed, the main components of Clinton's plan were to boost funding for public colleges and universities, provide tuition-free community college, and to reduce interest rates on student loans.
Then, acknowledging Bernie Sanders' popularity with millennial voters, Clinton updated her New College Compact in July to include a watered-down version of Sanders' proposal to make all public colleges tuition-free.
The original goal of Clinton's New College Compact was to boost federal and state spending by enough to help students attending four-year schools graduate "debt-free." The revised plan is more ambitious.
Tuition-free college for most students
Students from families with incomes $85,000 a year or less — about 80 percent of college students — would pay no tuition to attend four-year public colleges and universities in their home state. The income threshold would be boosted by $10,000 a year so that by 2021, students with a family income of $125,000 would qualify.
The New College Compact would also seek to boost graduation rates by providing grants to schools that invest in programs with high completion rates, and penalizing colleges whose students aren't able to repay their loans.
While Clinton's rival, Donald Trump, hasn't put a detailed plan forward, Republicans are calling for the federal government to play a smaller role in funding higher education while promoting innovation, transparency and accountability.
In a nod to those principals, Clinton says accreditation issues shouldn't stifle innovation by low-cost, technology-enabled programs. Students should be allowed to use federal aid to pay for promising online certificate programs, for example. But Clinton vows that she "will not tolerate programs that fall short" when it comes to outcomes — an allusion to recent high-profile flameouts of for-profit schools.
Assuming Clinton is elected and lawmakers get behind her plan — Republicans opposed to such dramatic expansions of federal spending currently control both chambers of Congress — it could conceivably go a long way toward helping reduce the amount of debt that many students take on in the process of obtaining their degrees.
'Refinance everybody' student loan plan
But what about those already encumbered by student loan debt? Clinton's plan would allow them to refinance their student loans at current rates. A "refinance everybody" plan would help 25 million borrowers get lower rates, saving each about $2,000 over the life of their loans, the Clinton campaign estimates.
A government program to refinance student loans is an idea that's been kicked around in Congress for some time. Sen. Elizabeth Warren's "Bank on Students Emergency Loan Refinancing Act," has gone nowhere since it was introduced in 2014, in part because of the need to raise taxes to fund it. The Congressional Budget Office's analysis of Warren's original proposal pegged the cost at $58 billion over 10 years, to be offset with $72.5 billion in new taxes.
But the debate over government student loan refinancing goes beyond cost. There are also issues of fairness.
As University of Michigan professor Susan Dynarski has pointed out, the vast majority of borrowers who obtained a degree that increased their earning power are repaying their loans. The borrowers who are struggling the most to repay their debt are students who took out small loans but didn't get a degree or skills that made them more desirable to employers.
Because student loan debt is disproportionately held by high-income families who are repaying their loans, researchers at the Brookings Institution estimate that the poorest quarter of households would receive less than one-fifth of the benefits of such a plan.
Borrowers with established earnings and good credit can refinance student loan debt at lower rates with private lenders, often saving thousands in the process. Private lenders are serving a broader spectrum of borrowers than just those with "super-prime" credit scores.
For borrowers who are struggling to make payments, the government offers income-driven repayment programs that limit monthly payments on federal student loans to 10 or 15 percent of disposable income, with potential loan forgiveness after 10, 20 or 25 years of payments, depending on the program. Borrowers who don't end up qualifying for loan forgiveness may end up paying more in the long run when they stretch their payments out in an IDR plan.
These programs could also prove to be costly to the government, and provide benefits disproportionately to borrowers with graduate school degrees, critics say. The Obama administration has proposed revamping these programs to shave about $50 billion in costs over the next 10 years, largely by reducing benefits to grad students, notes Jason Delisle of the American Enterprise Institute.
Clinton is a proponent of income-driven repayment programs, and her campaign has promised to "simplify, expand and develop options for automatic enrollment in these programs."
The Democratic presidential nominee also advocates creating a payroll deduction portal for employers and employees that will simplify the repayment process, and granting student loan deferments of up to three years to entrepreneurs who start their own business.
If Clinton wins the election and her higher education plan isn't embraced by Republicans, it could still serve as the starting point for negotiations. Democrats are using higher education costs and student loan debt as cudgels against Republican opponents in a number of closely contested Senate races.
Credible is a multi-lender marketplace that allows borrowers to get personalized rates and compare loans from vetted lenders, without affecting their credit scores.
---