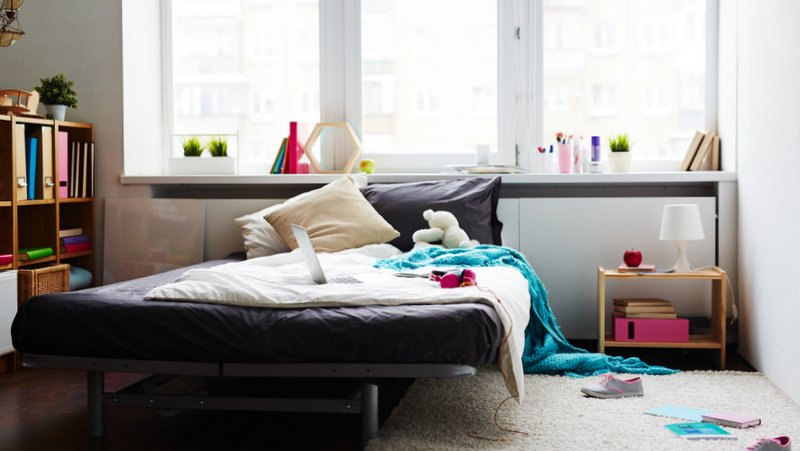 It used to be that when you went off to college, your family might rent your room out to a boarder to help cover your educational expenses.
Now homeowners who want to refinance their mortgage to pay for college (or other expenses) can get even more creative.
If your family makes your room available on Airbnb, Fannie Mae will count the money they earn when determining how much cash they can pull out of their home if they refinance their mortgage.
Three lenders on board
The lenders on board for the initiative launched this month by Airbnb and Fannie Mae are Better Mortgage, Citizens Bank and Quicken Loans.
Those lenders don't tell families how many rooms they can rent out, or what to do with the home equity they tap.
Quicken Loans even suggests that a family might lease their entire house on Airbnb, and use the proceeds from refinancing to make improvements that allow them to charge even more.
"Technology is at the heart of everything we do at Quicken Loans, so it is a natural fit for us to partner with one of Silicon Valley's most innovative companies," said Quickens Loans CEO Jay Farner in announcing his company's participation in the initiative.
Tax considerations
But before your family turns their home over to guests for too long of a stretch, they need to keep in mind that some tax benefits that are associated with home ownership only apply to a primary residence, or to a mortgage that was used to acquire or make "substantial improvements" to their property.
When a married couple sells their primary residence, for example, up to $500,000 in profit is exempt from taxes. But they have to be able to show that the property was their "main home" for at least two out of the five years before they sold it.
For families looking to claim the mortgage interest deduction, it used to be you could deduct the interest paid on up to $100,000 in home-equity debt. With changes to the tax code for 2018 pushed through Congress in December, the interest on a second loan or home equity line of credit (HELOC) can be deducted only if it's used to make capital improvements. Plus, the home mortgage interest deduction can only be claimed for up to $750,000 in total mortgage debt, down from $1.1 million in 2017 (check with your tax adviser about your own situation).
Tax considerations aside, pulling cash out of a home like its an ATMs might remind some cautious types of the loose lending practices that fueled the housing bubble at the turn of the century.
But Airbnb tracks the rental income that property owners earn using the site. If you want lenders to consider that income when refinancing, you have to provide your Airbnb proof of income with your application.
The gig economy
Quicken Loans is also participating in a Fannie Mae pilot project that allows borrowers to digitally verify their employment, income and assets.
An Airbnb executive, Dorothy Kilroy, sits on a Fannie Mae advisory panel that's working to identify "the most innovative and promising ideas and approaches that will help Fannie Mae address the nation's affordable housing issues" through "sustainable" communities.
Given its growing importance to many would-be homebuyers, Fannie Mae has taken an interest in the on-demand or "gig" economy.
Fannie Mae's National Housing Survey of homeowners and renters recently asked not only about consumers' employment status, but whether they'd ever made money renting out their home or car, driven for ride-sharing services like Uber and Lyft, or provided services through sites like TaskRabbit.
Among those who had, 12 percent said at least one-fifth of their income comes from such sources.
Although just 3 percent of adults ages 45 to 64 said they'd ever earned money offering their home or apartment on a service like Airbnb, VRBO, or HomeAway, younger respondents were more than twice as likely to have turned to such sources of income. Among respondents age 35 to 44, 7 percent said they'd offered accommodation sharing or vacation rentals on line. The same proportion of 18-to-34-year-olds said the same.
---