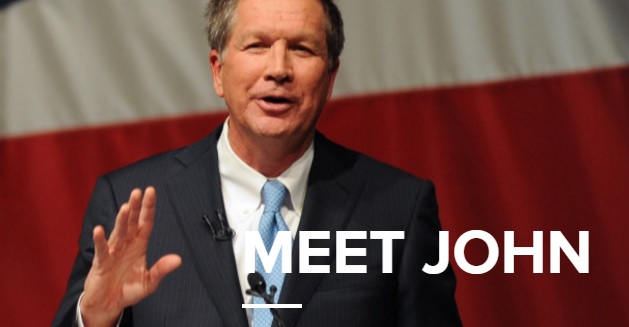 As Ohio's governor, John Kasich has established a track record on higher education that he hopes will help him stand out from his opponents in the Republican presidential primary race.
As he's been reminding voters lately, Kasich has made a cause of holding down costs at Ohio's public universities, and also supported a plan to provide student loan debt relief to the state's residents.
In his second term as governor of the swing state, Kasich won passage of a budget that includes a number of steps aimed at keeping higher education costs in check.
With backing from cooperating presidents of Ohio's state colleges and universities, Kasich implemented a funding formula based not on enrolling more students, but on helping them complete courses and graduate, thereby aligning the goals of students with the colleges that they attend.
To bring rising tuition costs under control, Kasich's budget limits tuition increases to 2 percent at 2- and 4-year institutions in 2016, and freezes them in 2017.
In another approach to cutting college costs, Kasich pushed for an expansion of advanced placement (AP) classes offered to Ohio's high school students. When students have the opportunity to earn college credits before setting foot on a college campus, they'll be better prepared and on track to graduate faster, lowering the end cost of their degree.
The state's budget sets aside $10 million to train more high school educators to teach college-level classes, and also earmarks $10 million in grants to help low-income students study year-round at community colleges and regional campuses.
While Kasich's focus is clearly on the cost side of higher education, he did propose a plan to help former and current students who are already in debt. This proposal — not taken up by Ohio lawmakers — included a $120 million student loan debt relief fund, which would have offered graduates incentives to take jobs in Ohio.
While Kasich may sound like a big spender, it's important to note that Ohio has balanced its budget and cut $5 billion in taxes since Gov. Kasich took office in 2010.
After doing all this as governor, what would Kasich's focus on higher education be as president?
Having stated his conviction in a Washington Post editorial that education is a local issue and that the U.S. Department of Education should be downsized, Kasich makes clear on johnkasich.com that he's focused on keeping college affordable, and that Ohio has provided a blueprint that other states should follow.
To some critics, Ohio's moves to control rising college tuition costs might be characterized as better late than never.
A recent analysis by Young Invincibles, a group that advocates for Millennials, concluded that Ohio cut higher education spending per student by 23 percent during the recession. That helped push tuition at 4-year schools up by 10 percent, leaving students and their families to pay 63 percent of public college costs.
The state was one of 19 earning an "F" grade from Young Invincibles, which concluded, "It is clear higher education is not a priority for Ohio."
---