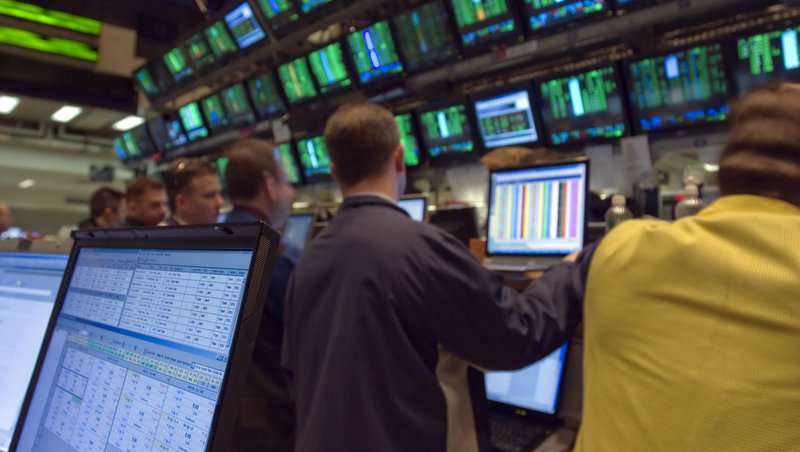 Investors who bought securities backed by federally-guaranteed student loans made by private lenders will get paid in the end, but worries that it will take longer than expected could slow the flow of investment capital into some corners of student lending.
Until the program was shut down more than five years ago, private lenders were originating more than $50 billion in student loans a year under the Federal Family Education Loan Program (FFELP).
No FFELP loans have been made since June 2010, when Congress shut down the program and the federal government started making student loans directly. In a process similar to the way investment capital is channeled into mortgages, lenders continue to bundle FFELP loans up into asset-backed securities that are sold to investors, freeing up money to make more loans.
Concerns by credit rating agencies Moody's Investors Service and Fitch Ratings that borrower payments on FFELP loans are coming in more slowly than projected could lead to downgrades on previously issued bonds, and make it more difficult for lenders to unload loans still on their books.
New criteria being developed by Fitch Ratings could lead to downgrades on $60 billion in bonds backed by FFELP loans, Bloomberg reports, citing a report by Deutsche Bank analysts.
One of the biggest holders of FFELP debt, Navient Corp. has bought back $1.1 billion in previously issued bonds, and says uncertainty among investors is preventing the company from securitizing more FFELP loans, Bloomberg reports.
Responding to Moody's ongoing review of FFELP loans, Navient acknowledged that recent trends in repayment rates of FFELP student loans have been "slower than historical norms," blaming the fact that more borrowers are in deferment, forbearance or federal income-driven repayment plans.
But Navient noted that when an FFELP loan defaults, federal guarantees ensure payment of at least 97 percent of principal and interest to the FFELP ABS trust that owns the loan.
Navient, which has issued more than $275 billion in asset-based securities backed by FFELP and private student loans to date, urged Moody's not to "overreact to short-term variances in FFELP loan performance. Moody's should recognize that, over time, loan performance tends to revert to historically typical levels despite short-term variances from the mean."
Voluntary prepayments of FFELP loans decreased during the economic recession, but Fitch Ratings expects that the Obama administration's new "Revised Pay As You Earn" (REPAYE) plan will entice many borrowers to prepay FFELP loans when REPAYE launches next month.
FFELP borrowers can become eligible for the new program, which caps monthly payments at 10 percent of disposable income, by consolidating existing FFELP loans into federal direct loans (see previous article, "How REPAYE stacks up against other income-driven repayment plans").
"We believe any rise in FFELP prepayment rates would be a positive factor in mitigating the maturity risk in some of the FFELP ABS transactions," Fitch analysts said.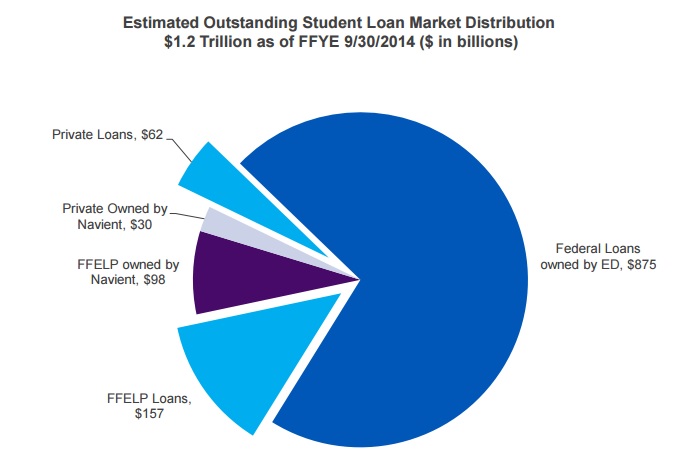 FFELP loans made up about 21 percent of the estimated $1.2 trillion in student loan debt outstanding at the end of September. Source: Navient, Department of Education, and MeasureOne reports.
While the securitization and sale of old FFELP loans may have hit a bump in the road, private student lenders continue to bundle and sell loans not backed by the federal government.
Last week, Moody's assigned prime ratings to $332.5 million in asset-backed securities to be issued by DRB Prime Student Loan Trust. Private student loans that lack federal guarantees tend to be made using strict underwriting standards, in many cases to low-risk borrowers seeking to refinance government-backed loans at lower interest rates.
A number of private lenders compete to refinance student loan debt or provide in-school loans through the Credible.com platform.
---