Our goal is to give you the tools and confidence you need to improve your finances. Although we receive compensation from our partner lenders, whom we will always identify, all opinions are our own. Credible Operations, Inc. NMLS # 1681276, is referred to here as "Credible."
Starting a new savings journey might feel intimidating, which could make you put it off for later. If you've found yourself in this situation, you're not alone — in 2019, 59% of Americans between the ages of 18 and 29 didn't have an emergency savings account, according to AARP.
But saving doesn't have to be complicated or hard. Even saving just a little bit at a time can add up.
If you're ready to get started, here's how to save money in just five easy steps:
1. Make a budget
Before you can start saving, you'll need to know what you can afford to save first. Here's how to calculate this:
See how much money you bring in each month. You can look at your recent pay stubs to find this number. If your income varies, use the last few months to estimate an average amount.
Subtract your expenses. This will include fixed expenses — such as your rent, student loan payments, and utility bills — as well as what you typically spend each month on groceries, dining out, and entertainment. Take this number and subtract it from your monthly income. The result is what you can afford to set aside in savings.
Once you have these numbers, you can create a budget detailing your monthly income, spending, and savings goal. If you don't have much money to set aside, your budget can also help you see where you might be able to trim expenses to save more down the road.
If you're new to budgeting, there are many online tools and apps available — such as Mint and Personal Capital — that can get you started.
Tip:
Remember that for a budget to be successful, you'll have to stick to it. If you're struggling with this, consider using only cash for your expenses.
For example, if you allow yourself $50 per month for entertainment, you'd set aside $50 in cash on the first of the month. Once that money is gone, you can't spend anything else on entertainment until the next month starts.
2. Find ways to cut your spending
After you've created a budget, you can see if there are ways to reduce or even eliminate some of your expenses so you can put more money toward saving. You don't have to make drastic lifestyle changes — even small adjustments to your habits could help you save a substantial amount of money.
Here are several options to consider:
Cancel recurring subscriptions. If you have multiple streaming subscriptions (such as Netflix, Disney+, or Hulu), consider unsubscribing or keeping just one service. Canceling one streaming subscription could save you $18 or more per month.
Refinance your student loans. If you have student loan debt, refinancing your student loans might get you a lower interest rate — which could help you save money on interest charges and potentially pay off your loans faster. Or you might opt to extend your repayment term to reduce your payments, freeing up more money each month — though keep in mind that if you choose a longer term, you'll pay more in interest over time. Also remember that while you can refinance both federal and private student loans, refinancing federal loans will cost you federal benefits and protections such as access to income-driven repayment and student loan forgiveness programs.
Consolidate credit card debt. If you have credit card balances with a high annual percentage rate (APR), you might be able to get a lower interest rate by consolidating it. For example, you could use a personal loan for debt consolidation or a balance transfer card. This could help you save money and even pay off your debt faster.
Prep your meals. Dining out at restaurants or using delivery services can add up, potentially costing you hundreds of dollars in added food expenses. Instead, spend some time planning and preparing meals ahead of time so you have tasty, nutritious food in your fridge — and will hopefully be less tempted to hit the drive-thru.
Get reimbursed. If you commute to work, check with your human resources department to see if your employer will reimburse you for travel costs. Or if you work from home, see if you can be reimbursed for a portion of your internet, electric, or phone bills.
Use only in-network ATMs. If you use an out-of-network ATM to withdraw cash, you could get hit with a fee as high as $4.72 or more. Cut down on unnecessary fees by using only in-network ATMs — or by reducing how often you take out cash altogether.
Check for coupons. No matter what kind of store you're browsing, make sure to see if there are any coupons available before checking out. Also consider joining store loyalty clubs to get access to more coupons.
Rent out extra space. If you have a spare bedroom or even an unused closet, you might be able to turn that space into extra cash. You can rent out unused space on sites like Neighbor or StoreAtMyHouse.
Refinance your mortgage. If you're a homeowner, you might be able to qualify for a lower interest rate on your mortgage through refinancing. Depending on the rate you get, you might be able to save thousands of dollars by refinancing your mortgage.
Tip:
Apps like
Coupons.com
,
Ibotta
, or
Rakuten
could earn you cash back on your routine purchases, such as groceries or medications — which you can use to boost your savings.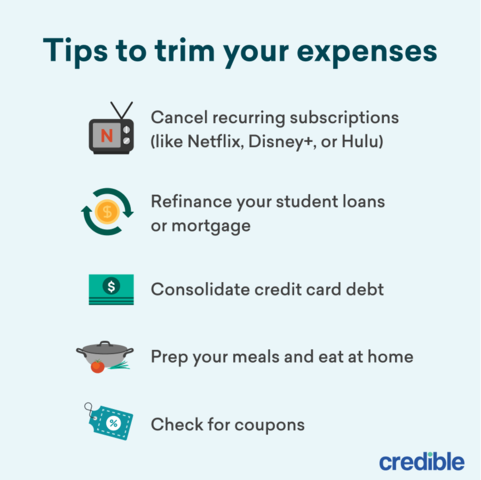 Check Out: Using the Debt Avalanche Method to Pay Off Debt

3. Set goals and prioritize
When you start learning how to save money, you might find yourself losing motivation more easily than you anticipated. To stop this from happening, be sure to set concrete goals for your money and prioritize accordingly.
For example: Say you want to travel to Europe and also buy a home. Because your lease is up in 10 months, buying a home is a bigger priority than saving for a vacation. Keeping this in mind will help you set realistic savings goals for your budget.
To help you track your progress, open separate savings accounts for each of your goals instead of keeping all of your money in one bucket. This way, you can adjust your savings according to your goals.
Tip:
It can help to visualize your goals to keep you focused and motivated — and prevent non-essential spending.
For example, you could have a picture of your dream vacation locale on your computer desktop or keep a photo of the perfect home taped to your refrigerator.
Learn More: Debt Snowball Method

4. Open a savings account
There are several types of accounts available to help you save. However, the right kind of account for you will depend on your goal.
For example, if you're saving for retirement, a 401(k) or Individual Retirement Account (IRA) could be a good choice. But if you want to stash money away for emergencies or short-term financial goals, you'll need to use another type of account — such as a high-yield savings account.
Tip:
The national average interest rate on regular savings accounts was just 0.04% as of March 2021, according to the Federal Deposit Insurance Corporation (FDIC).
But with a high-yield savings account, you might be able to get much higher returns — possibly up to 0.70% or more, depending on the bank. You'll also likely earn more with a high-yield savings account compared to savings bonds or certificates of deposit (CDs).
5. Automate the savings process
Having money automatically taken from your paycheck and put into your savings account is a great way to get your savings off the ground. Plus, it can help you avoid accidentally spending the money you want to put in savings.
Most banks will let you set up automatic deposits, which will withdraw a certain amount from your checking account and deposit it into your designated savings account.
You can choose to set these up weekly, monthly, or even on a specific day of the month. Consider setting up a recurring deposit to have money withdrawn every payday before you can spend it.
Tip:
Some banks and money-saving apps — such as
Ally
and
Chime
— offer a round-up savings feature. Every time you make a purchase, the bank will automatically round the amount to the next whole dollar and deposit the difference into your savings account. Over time, your spare change can build your savings.
Check Out: Find Your Student Loan
Starting small can pay off in big ways
Remember that the most important part of saving money can simply be starting. You don't need hundreds of dollars to start saving — even setting aside just $5 or $10 per month could pay off big in the long run.
To give you an idea of how monthly savings can add up depending on your contributions and Annual Percentage Yield (APY), check out the table below:
Monthly contribution
Balance after 3 years
Balance after 5 years
Balance after 10 years
Balance after 20 years
Balance after 40 years
$5
$182
$305
$619
$1,275
$2,713
$10
$363
$609
$1,237
$2,550
$5,426
$15
$545
$914
$1,856
$3,826
$8,139
$20
$727
$1,218
$2,474
$5,101
$10,852
$25
$908
$1,523
$3,093
$6,376
$13,565
*Note: Assumes a $0 starting balance and a 0.60% APY compounded monthly. Balances are rounded up to the nearest whole dollar.