Our goal is to give you the tools and confidence you need to improve your finances. Although we receive compensation from our partner lenders, whom we will always identify, all opinions are our own. Credible Operations, Inc. NMLS # 1681276, is referred to here as "Credible."
On the sidelines of playing fields and exhibition halls, parents, students and coaches have many dreams beyond that day's competition. They hope that today's performance will get noticed and lead to other opportunities, particularly the benefit of a full-ride to a good university. Athletic scholarships are the ultimate goal and the reward for all of the hard work, sacrifice and time families put into sports.
In reality, athletic scholarships often don't provide enough assistance to graduate with a debt-free degree. Each year, hundreds of thousands of students hope to get recruited for their sports skills, but only a very elite group will make the team and even fewer will get scholarships. According to the National Collegiate Athletic Association (NCAA), just 2 percent of high school athletes will be offered a scholarship going into college. And for those who do make the team and get the offer they hoped for, the experience is often very different than what they expected.
Difficult odds
The odds of becoming a college athlete — with or without a scholarship — are extremely poor. It is more likely that you will be accepted into Harvard or Yale than be offered a spot on an athletic roster. For families who have spent years at practices and thousands of dollars in training fees, this can be a harsh awakening.
Competition in youth sports is fierce, and the cost for equipment, training sessions, entry fees and more can add up quickly. Some families get involved in youth sports because they think it's their child's best chance of getting a scholarship, but what they spent in a year for training expenses is often more than they would get from an athletic scholarship. Families expecting a financial return for youth sports are often deeply disappointed by the money they've spent in comparison to the potential scholarships their children can achieve.
Limited scholarship opportunities
According to ScholarshipStats.com, which compiles statistical data from multiple sources including the NCAA, the National Association of Intercollegiate Athletics (NAIA) and the National Junior College Athletic Association (NJCAA), colleges and universities give out over $3 billion in athletic scholarships each year, While that number sounds impressive, most of the scholarships are not full rides and only cover a fraction of college expenses.
While Division I universities do offer full scholarships, most Division II schools only offer partial scholarships for athletics and Division III colleges offer no athletic awards at all. However, student athletes can qualify for merit awards for academics or other achievements at Division III schools, potentially cutting their tuition costs in half.
Full scholarships are particularly rare in certain sports. If your child is a track star, swimming champion, lacrosse player or golf titleholder, full scholarships are difficult to come by. Superior players may get a partial scholarship in these sports, but even that is uncommon.
According to a 2008 analysis by the New York Times, full scholarships are most commonly awarded to men who play football, basketball, and hockey, and women who are basketball, volleyball and tennis stars.
Pressure to perform
For many, the pressure of performing at the college level can be crushing. Juggling intense practice sessions, competition schedules, classes and schoolwork can be overwhelming, and it leaves little time for part-time work. In a survey of NCAA athletes, many said they wished they had more time for activities outside of sports. Business Insider reports that student-athletes spent 39 hours a week in school and 33 hours in practice or competition. Football players spend the most time away from school — more than 43 hours a week in practice and games, making managing a full course load more difficult.
Athletic scholarships are not for the length of a student's career. They are typically given on a semester-by-semester basis and have minimum requirements regarding academic and athletic performance. Slip in either area, the scholarships can be revoked.
Approximately a third of student-athletes will end up dropping off the team and forfeiting their scholarships due to the tough scheduling and pressure associated with sports. Some other athletes opt to transfer to different schools where they think there will be less pressure. The rigorous schedule can be exhausting, and the pace is not for everyone.
The chances of playing professionally after college are even lower than getting a scholarship, so it's a good choice to focus more on academics than sports. If your child enjoys the game and has a strong work ethic, playing college sports can be enjoyable. But if athletics interfere with their grades, school should be the priority, so they have career opportunities after graduation.
Cost of attendance shortfalls
According to ScholarshipStats.com, the average Division I scholarship is $14,720 for men and $15,162 for women, far less than the average cost of tuition. According to the College Board, students attending a public college in their own state should budget $24,061 a year for tuition and fees, room and board, books and other expenses.
A year at a private college can cost over $47,000. While athletic scholarships can help offset some of those costs, the student will still need to cover the rest of the bill. To fill the gap, students need to pay for school themselves or take on debt.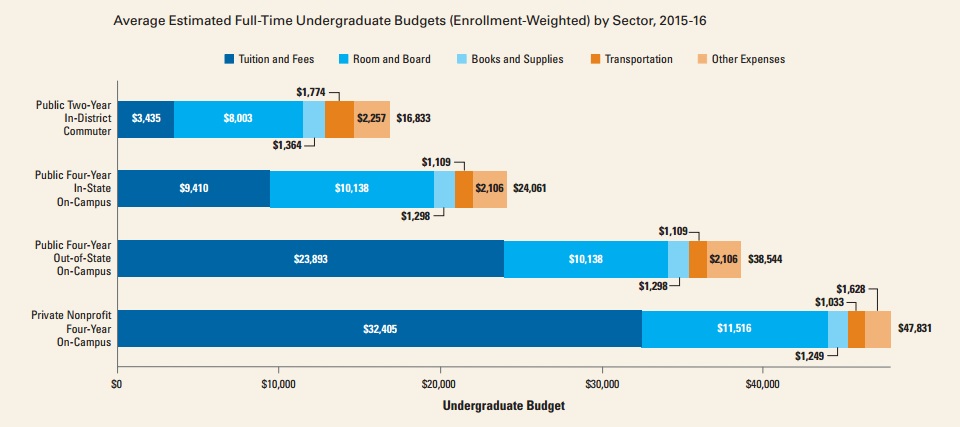 Source: The College Board, "Trends in College Pricing 2015."
Most athletic scholarships are only partial scholarships, covering just a portion of college expenses. But even in the case of full scholarships, the award only covers tuition. For the full cost of attendance, the student will still need to pay for room, board, books and other expenses.
While many students work part-time jobs or freelance on the side to offset their costs, most college athletes do not have this luxury. Their intense practice schedules and course loads leave little time for extra work, so for most, the only option is student loans. Many student athletes come from lower economic households and need to take out loans to pay for their living expenses, burdening even extraordinary athletes with student loan debt.
What to keep in mind
If your child enjoys her sports, it's fine to encourage her participation and give her support. However, remind her of the importance of academics as well. The chances of getting an academic scholarship are higher than getting an athletic scholarship, and strong study skills and school performance can lead to a prosperous career that is more stable than a future as a professional athlete.
For most student-athletes, scholarships will not come close to covering the full cost of attending college. Student loans become a necessary part of university life. Researching options, borrowing wisely and fully making sure your child understands her debt can help keep her on track and empower her to make the most of her time at school.
Kat Tretina is a freelance writer in Orlando, Florida. She double majored in English and communications at Elizabethtown College, before going on to earn a Master's in communications from West Chester University.
Credible is a multi-lender marketplace that allows borrowers to get personalized rates and compare private student loans from vetted lenders, without affecting their credit score.