Our goal is to give you the tools and confidence you need to improve your finances. Although we receive compensation from our partner lenders, whom we will always identify, all opinions are our own. Credible Operations, Inc. NMLS # 1681276, is referred to here as "Credible."

Credible Operations, Inc. NMLS# 1681276, "Credible." Not available in all states. www.nmlsconsumeraccess.org.
Many homeowners are taking advantage of historically low mortgage interest rates by refinancing their home loans. The opportunity to land a low annual percentage rate, or APR, is fueling the refinance market at a time when many experts predicted the market would cool. That's because a low APR means saving money on interest, which can significantly reduce how much you owe on your home.
Here's what you need to know about refinancing a mortgage.
How mortgage refinancing works
Simply put, refinancing your mortgage means getting a new loan to pay off your existing mortgage. Generally, borrowers choose to refinance for a few reasons: to lower their interest, to shorten their loan term, or to cash out some of their home equity.
If you're looking to refinance your mortgage, use Credible to compare prequalified rates from many of the top mortgage lenders in the industry.

Best refinance lenders of fall 2021
If you're thinking about refinancing, the following four Credible partners offer mortgage refinancing options.
Caliber Home Loans: Best for military members and veterans
Caliber Home Loans boasts a broad variety of mortgage refinancing options. The company also provides resources for military veterans and service members to secure a VA loan.
Minimum credit score: 580
Mortgage types: Conventional (fixed and adjustable), FHA, jumbo, USDA, VA
Loan terms: 10 to 30 years (fixed rate); 3/1, 5/1, 7/1, 10/1, and 5/5 (ARMs)
Days to close: Not disclosed
LoanDepot: Best for borrowers seeking a fast closing
Because LoanDepot is a direct lender, it says it can close your loan 50% faster than its competitors. The lender also offers VA refinance options for active-duty military members and veterans.
Minimum credit score: 580 (FHA); 620 (conventional)
Mortgage types: Conventional (fixed and adjustable), FHA, VA
Loan terms: 10, 15, 20, and 30 years (fixed rate); 3/1, 5/1, 7/1, and 10/1 (ARMs)
Days to close: Three days
Rocket Mortgage: Best for an online experience
Rocket Mortgage, which is an arm of Quicken Loans, excels in customer satisfaction. The lender has been named the highest-rated mortgage service for six consecutive years by J.D. Power.
Minimum credit score: 580
Mortgage types: Conventional, FHA, jumbo, VA
Loan terms: 15 and 30 years
Days to close: 30 to 45 days
Stearns Lending: Best for nontraditional workers
Stearns Lending works directly with borrowers and through mortgage brokers and is known for simplifying the loan process, even when your employment situation is nontraditional.
Minimum credit score: 580 (FHA, VA); 620 (conventional, USDA)
Mortgage types: Conventional, FHA, jumbo, non-QM, USDA, VA
Loan terms: Contact lender
Days to close: Not disclosed
Other mortgage refinance lenders to consider
Of course, there are other mortgage refinance lenders worth considering. Keep in mind that these lenders are not offered through Credible, so you won't be able to easily compare your rates with them on the Credible platform, like you can with partner lenders.
Guaranteed Rate: Best for homeowners seeking government-backed financing
Guaranteed Rate's mortgage process is exclusively online, a big benefit for homeowners who prefer doing business digitally.
Minimum credit score: 620
Mortgage types: Conventional, Fannie Mae HomeStyle renovation, FHA, FHA 203(k) renovation, interest-only, jumbo, USDA, VA
Loan terms: 15, 20, and 30 years
Days to close: Not disclosed
SoFi: Best for borrowers who plan to live in their home for many years
SoFi offers a unique student loan cash-out refinance option partnership with Fannie Mae designed to lower your student loan balance. As part of the refinance, SoFi will distribute money from your funds directly to your student loan servicer.
Minimum credit score: 660
Mortgage types: Cash-out refinance, conventional refinance, student loan cash-out refinance
Loan terms: 10, 15, 20, and 30 years
Days to close: Not disclosed
Veterans United: Best for veterans and service members
Veterans United offers a host of VA loan options for qualified veterans, service members, and their spouses. The lender also provides fixed-rate loans for non-military homeowners.
Minimum credit score: 640
Mortgage types: Conventional, FHA, USDA, VA, VA jumbo
Loan terms: 15 to 30 years
Days to close: Not disclosed
Methodology: How Credible evaluated mortgage refinance lenders
To identify the best mortgage refinance lenders, Credible reviewed data points in seven categories for each lender and loan, including interest rates, fees, repayment terms, and discounts. Credible also examined each lender's eligibility requirements.
Tips for comparing best mortgage refinance lenders
It's always a good idea to compare multiple lenders to find the best mortgage loan for you and your family. As you compare lenders, here are some important points to consider.
Mortgage products — Look at each lender's line of mortgage options. Some lenders have products tailored to specific types of borrowers, including first-time buyers and individuals with less-than-perfect credit. Comparing lenders can help you find a loan that fits your unique needs.
Customer reviews — Reviews may provide insight as to how a lender works with its customers. Search the Better Business Bureau or elsewhere online to see if there are complaints made against any lender you're considering.
Interest rates — Rates vary from lender to lender, so always compare rates to make sure you're getting the best deal for your situation.
Closing costs — Ignore closing costs at your own peril. With some lenders, the costs may be so high that it negates or significantly reduces the savings benefit of a refinance. Ideally, look for a refinance lender whose loans require no or low closing costs.
Your refinance goals — Are you looking for a lower interest rate and a lower monthly payment? Or do you want a cash-out refi to help fund a home improvement project? Always consider your goals before applying for a home loan.
No matter what your refinancing goals are, Credible lets you compare mortgage refinance rates from various lenders in minutes.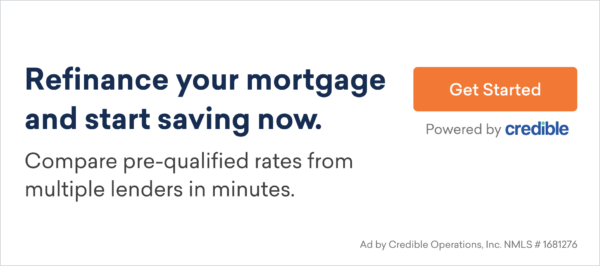 Should you refinance your mortgage?
Refinancing your mortgage may make sense if any of these goals apply to you.
Lower your interest rate and monthly payment. This is one of the most popular reasons to refinance. If current interest rates are lower than when you purchased your home, you may be able to land a lower interest rate and reduce the overall cost of your loan.
Tap into equity for cash. A cash-out refinance is another common reason homeowners refinance their mortgage. Cash-out refinancing allows you to access your home's equity for cash to use as you wish. Many borrowers use the money to consolidate high-interest debts or for home improvements.
Pay off your home faster. In a low-interest environment, you may choose to refinance your 30-year mortgage to a 15-year mortgage. Your monthly payment will typically rise with a shorter loan term — but if you can swing the higher payment, you'll save thousands of dollars over the life of the loan while paying off your home 15 years sooner.
Remove mortgage insurance. If you're paying private mortgage insurance, or PMI, refinancing your mortgage may allow you to remove this added expense if your loan-to-value ratio is 80% or lower.
Convert your adjustable rate into a fixed rate. If you purchased your home with an adjustable-rate mortgage loan, you might be able to refinance your home with a fixed rate. The change should give you peace of mind that your rate and payment will remain the same over the life of the loan.
Refinance loan types
Lenders offer the following refinancing options to help borrowers address their unique financial needs:
Rate-and-term refinance: Perhaps the most common, a rate-and-term refinance allows homeowners to change their current interest rate, loan term, or both with a new loan. This type of refinancing helps homeowners who are looking to land a lower interest rate and potentially a lower monthly payment. It's also common for homeowners to refinance into a shorter loan term to pay off their home sooner.
Cash-out refinance: Cash-out refinance loans are also very popular because they allow homeowners to tap into their equity. This loan may make sense for you if you plan on using the money to fund home improvement projects, pay for unexpected expenses, or consolidate high-interest credit cards and loans.
Streamlined refinance: An FHA Streamline Refinance is a fast, "no-doc" refinance loan for existing FHA mortgage holders. While this type of loan isn't for everyone, it could be a good idea if you're looking for financial breathing room with a lower rate and monthly payment.
Jumbo refinance: A refinance loan is considered "jumbo" when the loan amount exceeds the loan-servicing limits set by Fannie Mae and Freddie Mac. For most of the U.S., the limit for 2021 is ​​$548,250. In high-cost areas of the country, the limit is $822,375. Jumbo loans are best suited for homeowners with high income and excellent credit scores who want a large loan with a small down payment.
How do you qualify for refinancing?
The first step to refinancing is knowing if you're eligible for a new mortgage loan. Here are a few factors that lenders consider when determining your eligibility for a refinance.
Credit score
You'll typically need a credit score of at least 620 to qualify for a conventional mortgage refinance. Some government-backed programs, such as the Federal Housing Administration (FHA), have credit score requirements as low as 500. The Department of Veterans Affairs' Interest Rate Reduction Refinance Loan doesn't impose a credit score minimum on its borrowers.
Debt-to-income ratio
Your debt-to-income ratio is the percentage of your gross monthly income that goes toward your debt payments, including rent, mortgage, credit cards, and other debt. Your DTI is an important factor lenders consider when determining if you'll be able to afford your monthly mortgage payments. Typically, 43% is the maximum DTI ratio a borrower can have and still qualify for mortgage refinancing.
Home equity
You'll usually need at least 5% equity to qualify for a conventional refinance. Remember, though, having an LTV of 80% or lower may help you avoid paying for private mortgage insurance and open up other loan options to you.
Seasoning (how long you've lived in your house)
Depending on the type of loan you're seeking, you may have to hold your current loan for a certain period of time. For example, a cash-out refinance typically requires you to wait six months after taking out your original mortgage to be eligible for a refinance.
To refinance an FHA loan, a minimum of six months must pass from the first payment due date of your original FHA-backed mortgage loan. Also, you must wait at least 210 days from the closing date of your original FHA mortgage loan.
Mortgage refinance checklist
Before you apply to refinance your mortgage, you'll want to gather these items that provide proof of your income, credit history, debts, and assets.
Recent pay stubs from the past two to three months — These show your current place of employment and income.
Tax returns and W-2s — Many lenders like to see two years' worth of tax documents to illustrate your income and tax history.
Credit scores — Your lender will pull your credit report to review your payment history and credit scores. As a precautionary measure, you should check your credit before your lender does and correct any errors you see on your reports.
Statement of assets — To prove you'll have enough money to cover out-of-pocket closing costs, be ready to show your lender statements for your savings, retirement, and investment accounts.
Statement of outstanding debt — Your lender may request to see account statements on your outstanding debts, such as your mortgage, auto loans, and student loans.
How to find the lowest rates
The Consumer Financial Protection Bureau recommends getting loan estimates from at least three lenders. The agency notes that shopping around and comparing lenders can save you as much as a half-percentage point on your interest rate, which could save you thousands of dollars over the life of your loan.
Use Credible to easily compare mortgage refinance rates from various lenders without affecting your credit score.

Mortgage refinance FAQs
Should I refinance with my current lender?
It may be tempting to refinance with your current lender since you already have a financial relationship, and you might receive a competitive loan offer with less upfront paperwork.
Still, you should take the time to shop around and compare offers to ensure you're getting the best possible refinance deal. If your mortgage company offers you the best deal, it may make sense to accept its offer.
When's the best time to refinance your mortgage?
Historically, the best time to refinance your mortgage is when you can reduce your interest rate by at least 2%, although many lenders recommend a 1% interest rate reduction as a rule of thumb.
It's also wise to refinance when regulatory changes are in your favor. In July 2021, the Federal Housing Finance Agency announced that Fannie Mae and Freddie Mac were dropping a pandemic-induced fee on mortgage refinances. With the 50 basis-point fee now a thing of the past, it may be an excellent time to refinance your mortgage.
How much does it cost to refinance?
The cost to refinance your mortgage loan may range from 2% to 6% of your loan amount, depending on factors such as your credit score, lender, mortgage type, and size of your loan, among other variables.
---
About the author: Tim Maxwell is a financial writer with over two decades of experience. Tim's work has appeared in USA Today, Washington Post, Bankrate, LendingTree, Fox Business, Credible and more. He also publishes Incomist, a personal finance site that focuses on paying off debt by earning extra income in creative ways.