Our goal is to give you the tools and confidence you need to improve your finances. Although we receive compensation from our partner lenders, whom we will always identify, all opinions are our own. Credible Operations, Inc. NMLS # 1681276, is referred to here as "Credible."

Credible Operations, Inc. NMLS# 1681276, "Credible." Not available in all states. www.nmlsconsumeraccess.org.
Despite the pandemic and economic slowdown of 2020, a seller's market has rolled over into 2021. Prices are bloated and first-time homebuyers are feeling the squeeze.
If you're planning to buy a home in 2021, you should be prepared for higher prices, bidding wars, larger down payments, and stiff competition. Here's what you need to know before submitting your best offer.
What is a seller's market?
A seller's market in real estate is based on supply and demand — there are far more buyers than sellers, giving sellers the upper hand. Sellers might get more than the asking price for their home, and it will likely sell quickly.
If you're a first-time homebuyer in a seller's market, you may have to …
Pay a higher purchase price than you intended
Settle for something less than the home of your dreams
Act fast and have your finances in order
Come up with a higher down payment
Consider more types of homes than you intended
Assess your spending in other areas of your life
If you'll be applying for a mortgage for the first time, Credible can help you learn about how to buy a house, compare rates from multiple lenders, and get pre-approved for a mortgage.

What is a buyer's market?
A buyer's market is the opposite of a seller's market — there are more houses for sale than buyers. A buyer's market gives first-time homebuyers the upper hand when it comes to haggling for the best price.
It also means the list price of the average home can be substantially lower, and home sales are slower with houses sitting on the market for months.
How long do seller's markets last?
Some realtors insist that it's been a seller's market since 2015. But the U.S. real estate market generally follows a pattern of roughly 18-year cycles, which has held (mostly) true for more than 200 years, according to real estate research organization the Homer Hoyt Institute. If their data is correct, the seller's market could hold firm until 2033 — and it won't be practical for most buyers to wait that long to make their first home purchase.
11 strategies for buying in a seller's market
In June 2021, new home sales topped 5.8 million, up more than 800,000 from February of the same year. The current median price of a home also increased significantly — up more than 23.4% than just one year ago, according to the National Association of Realtors.
Here are some strategies to help you get the best house for your money when buying in a seller's market.
1. Define your needs and wants
In a seller's market, you may have to lower your expectations a bit. That means making a list of "must-haves" and "would-be-nice-to-have" items. For example, you may think you want to buy in a certain neighborhood, but another area of town may have less expensive housing. So a longer commute may get you into a home without sacrificing everything you want.
2. Know how much home you can afford
More than 75 million households can't afford a new median-priced home, and nearly 21 million households in the U.S. can't afford a $100,000 home, according to data from the National Association of Homebuilders. Using a mortgage calculator can help you find out how much you can easily afford before you begin searching for a home.
3. Get mortgage pre-approval
Getting pre-approved for a home loan by your lender not only lets you know how much you can borrow but also sets you apart from the competition. Sellers want to know that when they accept your offer, you won't back out because you can't qualify for a loan.
With Credible, you can research how much home you can afford and get pre-approved in minutes.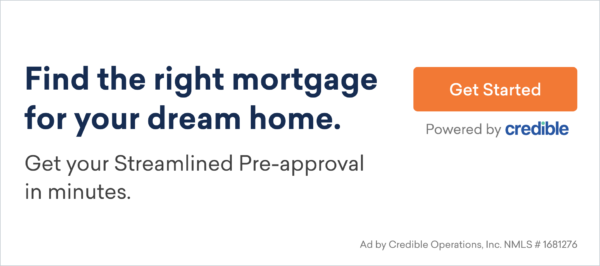 4. Give yourself bidding room
The best strategy to get into a home in a seller's market is to shop below your budget. That way, if there's a bidding war for the home you want, you have a bit of wiggle room to increase your offer.
5. Work with an experienced real estate agent
Real estate agents and brokers can be an asset when you're shopping for a home. They know the local market, what to watch out for, and can guide you in your search for a home.
6. Be a cash buyer
Making a cash offer for your home that's clearly over market value isn't possible for most people, especially with home prices so high (and climbing). In 1991, the median price for a home stood at $98,000, and in 2001, that same house sold for more than$120,000. Today, the median home price is nearly $315,000. But if you can swing it, making an offer in cash could give you an advantage over other buyers who must get their financing approved.
7. Be flexible
In a seller's market, flexibility is the name of the game. To get into a home, you may need to expand your home search beyond your initial desired area, compromise on some "like-to-have" features to get "must-haves," make some concessions, or be open to a fixer-upper. But keep in mind that although fixer-uppers are typically less expensive, at some point you'll be putting money into your home to make repairs.
8. Be decisive
Competition can be brutal, and homes sell quickly in a seller's market, so you may not have time to drag out your decision. Making an offer quickly might also get you to the head of the pack before other offers come in.
9. Start with your best offer
In a seller's market, a seller may not be willing to go back and forth negotiating a price. Also, they may not consider any contingencies, like an appraisal contingency or taking possession of the home in three months when the buyer wants out now. So start strong with your very best offer.
10. Flash more cash
Cash is king. If you can swing it, make a bigger down payment or make a higher earnest money deposit (a deposit you make to the seller that shows good faith to buy the home). Both may work in your favor.
11. Incentivize the seller
Put your best foot forward by being every seller's dream buyer. Offer non-price factors to sweeten the deal, such as waiving contingencies (but don't forgo a home inspection) or meeting the seller's desired closing date. Don't ask for any extras like throwing in the loveseat or lawnmower. If the seller decides to take the washer and dryer, let them. Ultimately, you can always buy appliances and you don't want to regret losing your dream house over them.
If you decide to wait out the seller's market
Although a seller's market has been the trend for some time now, sooner or later, the housing market will slow down and things will get better for buyers. If you can afford to wait until the market cools, use your time wisely by continuing to save for closing costs and a bigger down payment.
Pay off debts or raise your credit score. Remember, the bigger your down payment, the more equity you'll instantly have in your home, and you may be able to avoid costly PMI (private mortgage insurance).
With Credible, you can compare rates from multiple lenders and complete your mortgage online.

---
About the author: Kathryn Pomroy has been a personal finance writer for over seven years and is a contributor to Credible. Her work can be seen on LendingTree, Intuit/QuickBooks, FundThrough, insure.com, finder.com, NextAdvisor, and more. Kathryn holds a BA in Journalism.