Our goal is to give you the tools and confidence you need to improve your finances. Although we receive compensation from our partner lenders, whom we will always identify, all opinions are our own. Credible Operations, Inc. NMLS # 1681276, is referred to here as "Credible."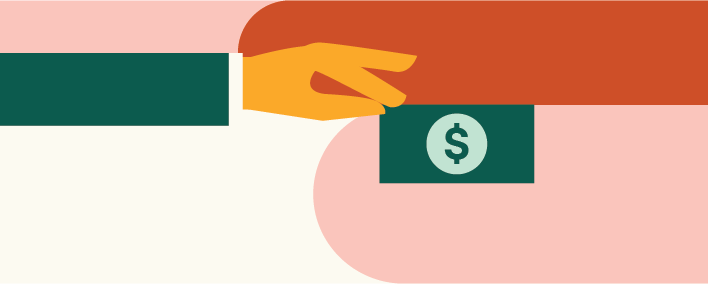 Content provided by Credible. Although we do promote products from our partner lenders who compensate us for our services, all opinions are our own. Requesting prequalified rates on Credible is free and doesn't affect your credit score. However, applying for or closing a loan will involve a hard credit pull that impacts your credit score and closing a loan will result in costs to you.
This article first appeared on the Credible blog.
If you've got unexpected expenses like home repairs, medical bills, or moving expenses, a $5,000 loan might be a more affordable alternative than racking up charges on a credit card.
Keep reading to find out where to get a personal loan, what to consider, and how to apply for one that fits your needs.
Where to get a $5,000 loan
Since every lender has its own method of evaluating borrowers, it's important to check prequalified, low interest personal loan rates from multiple lenders, rather than relying on advertised rates or comparison tables. Here are some places to look for $5,000 personal loans.
You can start your search for a personal loan with Credible, where you can see your prequalified personal loan rates from various lenders.

Online lenders
Online lenders can be a good source for $5,000 loans because they typically offer a streamlined, digital loan application process. Some might even be able to approve and fund your loan the next business day. Depending on the lender, you might also be able to get a better interest rate from an online lender than a bank or credit union.
Banks
Although the application process might not be as effortless, borrowing from a bank can have some advantages. You might be able to get a small interest rate discount if you already have a bank account with a certain institution.
Like other lenders, banks often offer autopay discounts if you let them take your monthly loan payments directly out of your checking account or savings account.
Credit unions
You do have to join a credit union before it will consider lending money to you. But many have loose membership requirements that make it easy to join. If you're borrowing from a credit union, ask if it offers an autopay interest rate discount.
What to consider when comparing loans
If you're looking for the right personal loan for your financial situation, here's everything you should consider:
Amount
Interest rates
Repayment terms
Fees and total cost
Amount
A $5,000 personal loan might seem like a lot of money, but most lenders will go higher. The upper limit for many lenders is $35,000, but many will lend up to $50,000 or $100,000 — since some people take out larger loan amounts to consolidate credit card debt or pay off other high-interest debt.
But many lenders won't bother with loans of less than $1,000. If you need to borrow less than $1,000, you might run into some payday loans. You should proceed with caution, since payday loans often carry high interest rates and finance charges.
Interest rates
To get the lowest interest rate, it's important to compare the rates and terms you can qualify for with multiple lenders. For example, although you might be able to get a $5,000 loan with poor credit, expect to pay a higher interest rate than you would with excellent credit.
Credible lets you compare personal loan rates in minutes, without affecting your credit score.

Repayment terms
Repayment terms for personal loans typically range from two to seven years. The shorter the loan term, the lower the interest rate offered by most lenders. But because you'll be making fewer payments, you'll also have a higher monthly payment.
Choosing the loan term with the shortest repayment term and highest monthly payment you can afford can help you get a better interest rate and pay less in interest.
Fees and total cost
Although it's easy to get fixated on interest rates and monthly payments, you should also keep a close eye on fees and total repayment costs.
Review the federal Truth in Lending Act (TILA) disclosure provided by your lender. When comparing loans, these two numbers in the disclosure are typically helpful:
Finance charge: This outlines the costs associated with your loan, including interest and fees.
Total payments: This is how much you'll pay back altogether, including the loan principal and finance charges.
Note that the above costs can increase if you miss a payment or make a late payment.
Cost to repay a $5,000 personal loan
The table below shows the relationship between the loan repayment term, interest rate, monthly payment, and total interest charges. The interest rates in the table are hypothetical and are for illustration purposes only.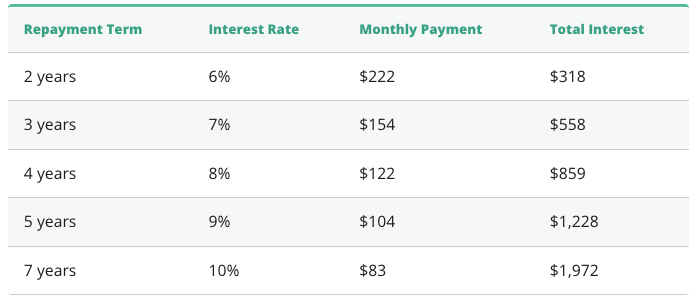 You can use Credible's personal loan calculator to estimate the monthly payment and total interest charges for loans with other rates and terms.
If you're ready to apply for a loan, visit Credible to see your prequalified personal loan rates from various lenders in minutes.

Personal loan alternatives
If the limits on your credit cards are high enough, or you have multiple credit cards, you can consider using them for the amount you need — especially if it's on the lower end, like $5,000 or less. But make sure you're able to pay off your balance in full each month. If not, you'll end up paying a lot in interest.
Since personal loans typically have a much lower interest rate than credit cards, getting a personal loan might be the better choice if you don't expect to be able to pay it back quickly. Just make sure to do your research and choose whatever makes sense for your finances.
---
About the author: Matt Carter is an expert on student loans. Analysis pieces he's contributed to have been featured by CNBC, CNN Money, USA Today, The New York Times, The Wall Street Journal and The Washington Post.