Our goal is to give you the tools and confidence you need to improve your finances. Although we receive compensation from our partner lenders, whom we will always identify, all opinions are our own. Credible Operations, Inc. NMLS # 1681276, is referred to here as "Credible."

Content provided by Credible. Although we do promote products from our partner lenders who compensate us for our services, all opinions are our own.
When you need to borrow money, it's natural to look for the best deal you can find. As you search around, you might come across an offer that sounds too good to be true.
It's smart to proceed with caution. Personal and business loan scams increased 127% in 2020, and loan fraud was the third most-reported type of fraud last year, according to the Federal Trade Commission's Consumer Sentinel Network.
So if you need money quickly, how can you avoid falling prey to a scam? You can start by verifying that any lender you work with is a legitimate company.
How to check if a loan company is legitimate
Unfortunately, some scammers target vulnerable people who are looking for fast access to a loan. For that reason, before you turn your personal information over to any lender, you should take steps to see whether they're for real. This is especially important if it's not a recognized, established lender with an easy-to-assess reputation.
Here are a few steps you can take to determine whether or not a loan company is legitimate.
Check out their online presence
Look at the lender's website. Does it look well-designed or shady? One red flag to look for is websites that aren't secure. "If you don't see an 's' after 'http' on their site address or a padlock symbol on any pages where you're asked to provide confidential information, you're on an insecure website," Experian advises.
Enter the company's name in a search engine to see if you can find any reviews or news stories about issues they've had with other customers. You can also try searching for their name along with the word "scam" to see what comes up. Of course, even legitimate companies can get negative reviews sometimes, but if you see a large number of former customers complaining, that's a bad sign.
Check for a physical address or mailing address
Locate the lender's address on its website. If they list a physical address, look it up on Google Maps to verify it actually exists. Listing just a P.O. box or no address at all can be red flags of a fly-by-night operation.
Check for complaints
Check out some commonly used complaint databases to see whether customers have filed formal complaints against the company. Here are some databases to search.
See if the lender is registered in your state
Lenders are required to register in every state in which they do business. Contact your state attorney general's office or bank regulator to ask whether the lender is registered.
Credible makes it easy to compare personal loan rates from multiple lenders.

7 signs of a loan scam
Being aware of some common warning signs of loan scams can help you protect yourself, your personal information, and your money. Scammers generally have a pattern of aggressive behavior, so here are a few telltale signs to look out for.
A company asks you to pay upfront to get a loan. In an advance-fee loan scam, the so-called lender promises they'll give you a loan or line of credit after you make an upfront payment or pay an application fee. After you pay, the scammer disappears with your money, and you never receive the loan. The FTC says these types of scams tend to target people who have bad credit or trouble getting a loan for other reasons.
They don't run a credit check. Reputable lenders will almost always check your credit before lending you money, so if a lender says things like, "Bad credit? No problem," these can be signs of a scam.
Approval is "guaranteed." Reputable lenders will never guarantee you a loan, make a loan offer, or promise a specific loan amount before checking your credit. They'll also want to verify your income and confirm other information on your application before approving your loan. If they guarantee approval or a specific interest rate without knowing anything about you, that's a red flag.
Fees are not disclosed upfront. Lenders may charge origination fees, application fees, and other fees for processing your loan, but those fees should always be disclosed upfront. If a lender can't or won't tell you how much it will cost you to borrow money, look for a loan elsewhere.
The lender solicits your business either by phone, email, text message, or social media. Legitimate lenders don't call the general public with offers to lend money. If you get a phone call, email, text message, or direct message on social media offering you a loan or line of credit, don't take the bait.
They ask for personal or financial account information before you fill out an application. Never give out your Social Security number, bank account information, credit card number, or other personal information over the phone or internet unless you know the company is legitimate and why they need the information.
They pressure you to take the loan or are otherwise aggressive or threatening. Legitimate loan companies won't pressure you to make a decision on a loan, threaten you, or be overly aggressive.
What to do if you've been scammed
If you think you've been a victim of a loan scam, follow these steps.
Notify your bank or credit card company. If you gave the scammer your bank account number or credit card information, contact your bank or credit card company right away. Report any fraudulent transactions, close your accounts, and open new ones.
Submit a complaint to the FTC. Report the scam to the FTC online. The FTC will provide a personalized recovery plan to help you minimize the damage and protect yourself going forward.
File a police report. Report the scam to your local police department and file a report. They may not be able to do much — especially if the scammer is an online lender. But you may need the police report to put a fraud alert on your credit reports or file an insurance claim.
Notify the credit bureaus. Contact the three major credit reporting agencies: Equifax, Experian, and TransUnion. Let them know that you've been a victim of a loan scam. They can restrict access to your credit reports by putting a credit freeze or fraud alert on your file.
Check out the FTC's tips on what to do if you were scammed for more steps to take if the scam involved paying with a gift card, wire transfer, cash, or cryptocurrency.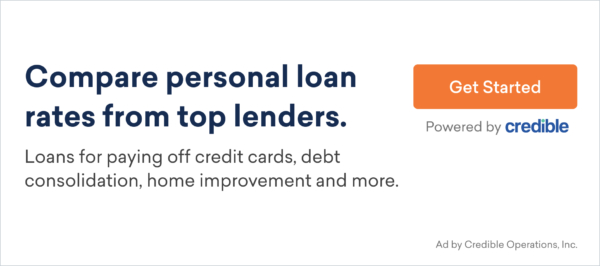 8 lenders to consider if you need a personal loan fast
If you need cash fast, it is possible to get legitimate personal loans quickly. Consider working with one of Credible's partner lenders. Each offers fast online personal loans with same- or next-day funding.
Avant
Time to fund: As soon as the next business day (if approved by 4:30 p.m. Central time on a weekday)
Minimum credit score: 550
Loan amounts: $2,000 to $35,000
Axos Bank
Time to fund: As soon as the next business day
Minimum credit score: 700
Loan amounts: $10,000 to $50,000
Discover Personal Loans
Time to fund: As soon as the next business day after acceptance
Minimum credit score: 660
Loan amounts: $2,500 to $40,000
LendingPoint
Time to fund: As soon as the next business day
Minimum credit score: 580
Loan amounts: $2,000 to $36,500
LightStream
Time to fund: As soon as the same business day
Minimum credit score: 660
Loan amounts: $5,000 to $100,000
OneMain Financial
Time to fund: As soon as the same business day, but usually requires a visit to a branch office
Minimum credit score: None
Loan amounts: $1,500 to $20,000
Universal Credit
Time to fund: Within one day, once approved
Minimum credit score: 580
Loan amounts: $1,000 to $20,000
Upgrade
Time to fund: Within a day of clearing necessary verifications
Minimum credit score: 580
Loan amounts: $1,000 to $50,000
With Credible, you can check personal loan rates from multiple lenders without affecting your credit.

---
About the author: Janet Berry-Johnson is an authority on income taxes and small business accounting. She was a CPA for over 12 years and has been a personal finance writer for more than five years. Janet has written for several well-known media outlets, including The New York Times, Forbes, Business Insider and Credit Karma. In 2021, Canopy named her one of the Top 10 Influential Women in Accounting and Tax.