Our goal is to give you the tools and confidence you need to improve your finances. Although we receive compensation from our partner lenders, whom we will always identify, all opinions are our own. Credible Operations, Inc. NMLS # 1681276, is referred to here as "Credible."

Content provided by Credible. Although we do promote products from our partner lenders who compensate us for our services, all opinions are our own.
If you're struggling to repay your student loan debt during the COVID-19 pandemic, you're not alone. One in four adults has had trouble paying their bills since the pandemic started, according to a Pew Research Center survey.
The good news is, federal student loan payments have been paused until Jan. 31, 2022. But an estimated 6.1 million borrowers unfortunately aren't eligible for relief, either because they have private student loans or their federal loans don't qualify.
Here's what you need to know about your student loan forgiveness options during the coronavirus pandemic and how you can prepare for your student loan payments to resume.
Credible lets you compare student loan refinancing rates in minutes.

Am I eligible for student loan forgiveness during COVID-19?
The CARES Act of 2020 helped many student loan borrowers by temporarily pausing payments, interest accruals, and collection activities on federally held student loans.
This grace period was initially scheduled to last through Sept. 30, 2020, but the U.S. Department of Education (ED) later announced a final extension through May 1, 2022.
Not all student loans qualify for the 0% interest rate and payment suspension, though. The table below outlines the loans that do and don't qualify.

Federal student loan relief
Whether or not your federal student loan qualifies for the automatic relief outlined above, you may still have other student loan relief options.
Public Service Loan Forgiveness Program
The Public Service Loan Forgiveness (PSLF) Program helps people employed by the government or nonprofit organizations with forgiveness of their Direct Loans.
To qualify for PSLF, you must:
Be employed by a U.S. federal, state, local, or tribal government, not-for-profit organization, or U.S. military
Work full-time for that qualifying employer
Have Direct Loans or consolidate other federal student loans into a Direct Consolidation Loan
Repay your loans under an income-driven repayment plan
Make 120 qualifying payments
If your federal student loan payments were automatically suspended during the COVID-19 pandemic, you still receive credit toward the 120 qualifying payments requirement as if you'd been making on-time payments.
The ED's PSLF Help Tool can help you assess whether you qualify for loan forgiveness programs and generate the forms you need to apply.
Income-driven repayment plans
Income-driven repayment (IDR) plans set your monthly student loan payment at an amount intended to be affordable based on your income and family size.
The U.S. Department of Education has four IDRs.
Revised Pay As You Earn Repayment Plan (REPAYE Plan) — Payments are 10% of your discretionary income.
Pay As You Earn Repayment Plan (PAYE Plan) — Payments are 10% of your discretionary income, but not more than the 10-year Standard Repayment Plan amount.
Income-Based Repayment Plan (IBR Plan) — Payments are 10% of discretionary income for new borrowers on or after July 1, 2014, or 15% of discretionary income for other borrowers, but never more than the 10-year Standard Repayment Plan amount.
Income-Contingent Repayment Plan (ICR Plan) — Payments are the lesser of either 20% of your discretionary income or what you'd pay on a repayment plan with a fixed payment over 12 years.
To apply for an IDR plan, contact your student loan servicer.
Deferment and forbearance
If your student loans don't qualify for automatic relief, you may still qualify for deferment or forbearance. But interest continues to accrue during that time, and periods of deferment and forbearance don't count toward your PSLF requirements.
To request deferment or forbearance, contact your student loan servicer.
Private student loan relief
There isn't a universally available plan to forgive private student loans — only federal. So if you have private student loans, you may not be eligible for forgiveness. But even if private student loan forgiveness isn't available, refinancing your student loans might give you a lower monthly payment or lower interest rate.
How do I refinance private student loans?
Depending on your credit, you may be able to refinance your private student loans into a new loan with a lower interest rate.
Student loan borrowers often have limited credit history, so lenders consider them a credit risk. But once you graduate, get a job, and start building credit, you may qualify for a lower interest rate.
There are a few things to watch out for:
Variable rates — Interest rates on private student loans may be fixed or variable. If you refinance from a fixed-rate loan to a variable-rate loan and interest rates go up, your monthly payment could go up as well.
Loan terms — Lowering your monthly payment may be appealing, but watch out if the new loan spreads repayment out over a longer term. Lower payments over a longer term might lower your monthly obligations, but they'll end up costing more in interest over the life of the loan.
If you're ready to get started, Credible lets you easily compare student loan refinancing rates from multiple lenders without affecting your credit score.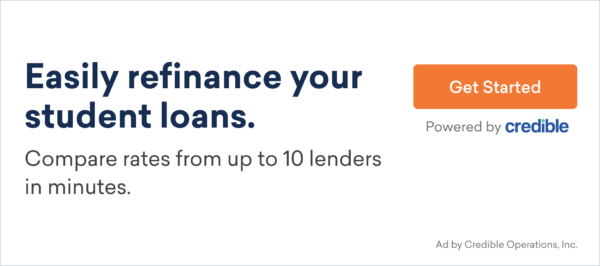 Who's eligible to refinance private student loans?
You can refinance any private student loan, but qualifying for a low rate will depend on several factors. Here are a few common eligibility requirements:
Credit score — Each lender has its own credit score requirements. Most of Credible's refinancing partners work with borrowers with credit scores between 670 and 700.
Cosigner — If you don't qualify for refinancing based on your credit score alone, consider finding a cosigner with good or excellent credit. They may help you qualify for a lower rate than you would on your own.
Debt-to-income (DTI) ratio — Your debt-to-income ratio tells lenders what percentage of your income goes toward paying off debts. It's calculated by dividing your total monthly payments by how much you earn each month. The maximum DTI ratio to qualify for student loan refinancing is typically 50%, although you may qualify for a better rate with a lower DTI ratio.
What about Biden's student loan forgiveness plan?
More than 43 million Americans have student loans and are in debt by an average of $39,351 each, according to EducationData.org. But those figures could change dramatically under President Joe Biden's administration.
While on the campaign trail in 2020, Biden shared a post on Medium promising to …
Cancel a minimum of $10,000 in student debt per person.
Forgive student loan debt for low-income and middle-class people who attended public colleges and universities, Historically Black Colleges and Universities, and private, underfunded Minority-Serving Institutions.
In March, the U.S. Department of Education announced it would streamline cancellation for $1 billion in loans under the Borrower Defense Loan Discharge program for students who were defrauded by for-profit institutions.
In April, President Biden asked Education Secretary Miguel Cardona to prepare a report on the president's legal authority to cancel up to $50,000 in student loan debt per person. And in August, the administration announced it will automatically erase student loan debt for more than 323,000 Americans with severe disabilities.
What does this mean for borrowers?
Despite these signs, you should still plan on having to resume monthly student loan payments eventually.
For most people, loan forgiveness isn't yet definite. So far, President Biden has resisted calls from Democrats and student loan advocates to cancel student loan debt through executive order, and Congress is divided over whether student loans should be forgiven and by how much.
Preparing for student loan payment to resume
Nothing is certain until Congress passes a bill or President Biden signs an executive order canceling student loan debt. The good news is, you have time to make a plan before the automatic payment pause ends in May 2022.
Here are a few ideas you can start working on today.
Check in with your loan servicer
Federal student loan borrowers whose payments were automatically paused should hear from their loan servicer to confirm they'll need to start making payments again. But if you don't hear from your servicer, contact them to ensure you know your due date and your loan servicer has your current contact information. If your loans are set up to auto-debit from your bank account, make sure your servicer has the right account number as well.
If you expect you'll have trouble making payments when they resume, talk to your loan servicer about enrolling in an income-driven repayment plan or having your current IDR plan recalculated to reduce what you owe each month.
Consider student loan refinancing
If you're a federal student loan borrower, you probably don't want to refinance right now for two reasons. First, since your current interest rate is 0%, and people generally refinance in order to get a lower interest rate, refinancing won't get you a lower rate.
Second, refinancing federal student loans into a private student loan means losing out on other benefits, such as income-driven repayment plans and the ability to have your loans placed on deferment or forbearance.
But if you have private student loans, now might be a good time to refinance. Current federal loan rates are low, as is the federal government prime rate, and many private lenders have also lowered interest rates. This means it's an ideal time to take advantage of low interest rates before they rise again.
If you've decided to refinance your private student loans, Credible lets you compare student loan refinancing rates from various lenders in minutes.

Make a plan
You still have a few months before payments resume, so if you can, set aside funds to cover your first payment. This will make that first payment a little easier to stomach. Plus, getting into the habit of setting aside money each month will help you determine whether you need to cut back on other expenses or look for ways to supplement your income to fit student loan payments into your current budget.
It's not yet clear whether blanket student loan forgiveness may be coming, but don't count on it as part of your long-term financial strategy. Instead, come up with a plan to resume payments next February or start working on getting your loan placed on an IDR plan or in deferment or forbearance. Then, if student loan forgiveness does happen, you can look at it as a gift.
---
About the author: Janet Berry-Johnson is an authority on income taxes and small business accounting. She was a CPA for over 12 years and has been a personal finance writer for more than five years. Janet has written for several well-known media outlets, including The New York Times, Forbes, Business Insider and Credit Karma. In 2021, Canopy named her one of the Top 10 Influential Women in Accounting and Tax.