Our goal is to give you the tools and confidence you need to improve your finances. Although we receive compensation from our partner lenders, whom we will always identify, all opinions are our own. Credible Operations, Inc. NMLS # 1681276, is referred to here as "Credible."
Studying abroad could help you learn about different cultures and even enhance your language skills. However, it can be pricey — which means you might need study abroad student loans or other financial aid to cover the cost.
Here are three ways to pay for a study abroad program:
1. Apply for study abroad scholarships and grants
International schools don't participate in the U.S. Department of Education's grant programs, so if you plan to attend a school in another country, you won't be eligible for federal Pell Grants.
However, there are other scholarships or grants offered by nonprofit organizations or private companies that you might qualify for. Unlike student loans, scholarships and grants don't have to be repaid.
Here are a few scholarships available to students planning to study abroad:
Learn More: How Long Does It Take to Get a Student Loan?

2. Take out federal student loans
After applying for as many scholarships and grants as you can, the next step in financing your time abroad is to take out federal student loans. If you're studying abroad, you could still be eligible for the following types of federal student loans:
Direct Subsidized Loans: These loans are available to undergraduate students with financial need. The U.S. government will cover the interest on subsidized loans while you're in school.
Direct Unsubsidized Loans: These loans are available to both undergraduate and graduate students, regardless of financial need. Unlike subsidized loans, you're responsible for all interest that accrues on unsubsidized loans.
Direct PLUS Loans: There are two types of Direct PLUS Loans — Grad PLUS Loans for graduate students and Parent PLUS Loans for parents who want to pay for their child's education. Keep in mind that unlike subsidized and unsubsidized loans, PLUS Loans require a credit check.
To apply for federal student loans, you'll need to complete the Free Application for Federal Student Aid (FAFSA). When you fill out the FAFSA, be sure to list all of the international schools you're applying to for your study abroad program.
Tip:
After you submit the FAFSA, contact the schools directly to learn more about their financial aid and
college application
processes.
Check Out: Federal Stafford Loans
International schools eligible for federal student loans
While there are thousands of colleges and universities across the globe, not all of them qualify for federal financial aid. If you want to take out federal loans to pay for your education, the school must participate in the federal Direct Loan Program.
Tip:
Be sure to check with your desired school to see if it's currently participating in the federal aid program.
You can also see if the school is included in the database of international schools that are eligible for federal student aid maintained by the Office of Federal Student Aid. This database is updated quarterly. You can see some of the major international universities that qualify for federal aid below.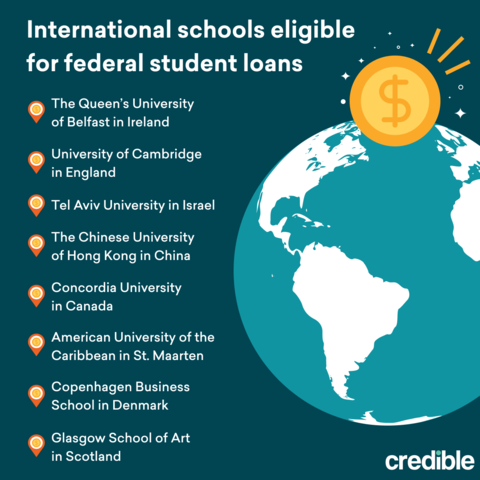 If you decide to take out student loans — whether federal or private — to pay for a study abroad program, be sure to consider how much the loans will cost you over time. This way, you can prepare for future repayment.
You can find out how much you'll owe over the life of your federal or private student loans using our student loan calculator below.
Enter your loan information to calculate how much you could pay
?

Enter the total amount borrowed
$
?

Enter your annual interest rate
%
or
?

Enter the amount of time you have to repay your loan
years
Total Payment $
Total Interest $
Monthly Payment $
With a $ loan, you will pay $ monthly and a total of $ in interest over the life of your loan. You will pay a total of $ over the life of the loan, assuming you're making full payments while in school.
---
Need a student loan?
Compare rates without affecting your credit score. 100% free!
Checking rates won't affect your credit score.
Learn More: Everything You Need to Know About the Perkins Loan

3. Consider private student loans to fill in the gaps
If you've exhausted your scholarship, grant, and federal student loan options, private student loans could help fill any financial gaps left over. These loans are available from banks, credit unions, and online lenders.
Unlike federal loans, private student loans can have variable or fixed interest rates, and you can typically choose your own repayment term.
Keep in mind:
Private student loans don't come with
federal student loan benefit
s, such as access to income-driven repayment plans or student loan forgiveness programs.
However, private student loans offer some perks of their own. For example, you can generally apply for a private student loan at any time.
And you might be able to borrow up to your school's cost of attendance, depending on the lender.
You'll typically need good to excellent credit to qualify for a private student loan. While some lenders off private student loans for bad credit, these generally come with higher interest rates compared to good credit loans.
Tip:
If you're struggling to get approved for a private student loan, consider adding a
cosigner
to your application.
Even if you don't need a cosigner to qualify, having one could get you a lower interest rate than you'd get on your own.
If you decide to take out a private student loan, be sure to consider as many lenders as possible to find the right loan for you. Here are Credible's partner lenders that offer student loans to borrowers who plan to study abroad:
Check Out: How to Get a Student Loan With No Credit Check
What student loans can cover when studying abroad
If you take out student loans, you'll have to sign a loan agreement that says your loans will only be used for qualified educational expenses.
Here are some expenses that you could use student loans for while studying abroad:
Travel to and from the country where your selected university is
Room and board
Tuition and fees
Textbooks
Computer or other supplies
Fees required by study abroad programs
Learn More: Student Loan Limits
Studying abroad can be exciting, but only borrow what you need
Studying abroad can be an incredible way to see the world, but it can also be extremely expensive.
While you might be tempted to take out more in student loans to pay for travel and purchases in the country you're visiting, make sure to stick to a budget so you don't accidentally run out of money or end up with a huge balance down the road.
Tip:
Once you leave the study abroad program, you'll have to repay whatever loans you took out.
If you're careful to borrow only what you need, you could save hundreds or even thousands of dollars later on.
If you decide to take out a private student loan to cover study abroad costs, remember to consider as many lenders as you can to find the right loan for your needs. Credible makes this easy — you can compare your prequalified rates from multiple lenders in two minutes.
Compare student loan rates from top lenders
Multiple lenders compete to get you the best rate
Get actual rates, not estimated ones
Finance almost any degree
See Your Rates
Checking rates will not affect your credit
Keep Reading: How to Pay for Grad School