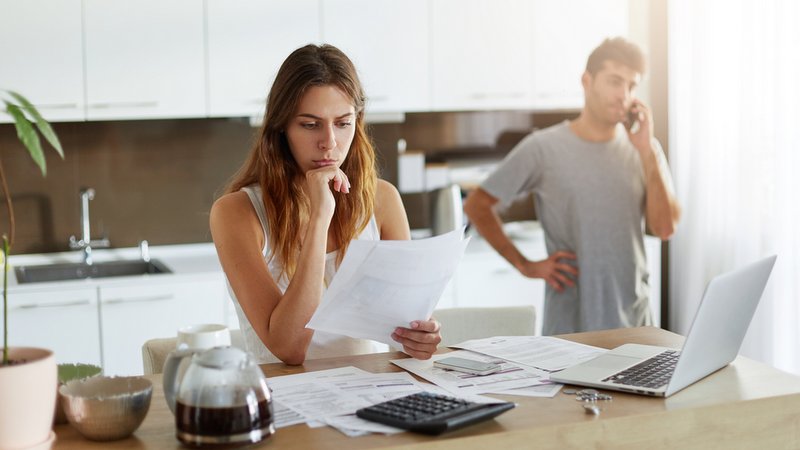 The nation's consumer watchdog has moved to shut down two debt relief companies that allegedly bombarded highly-leveraged credit card borrowers with direct mail and telemarketing campaigns aimed at fooling them into thinking they were entitled to government protection and relief.
The companies — Federal Debt Assistance Association LLC, and Financial Document Assistance Administration Inc. — sought out consumers who were using at least 85 percent of their available credit card limit, and who owed at least $30,000, the Consumer Financial Protection Bureau alleged in a civil complaint filed against the companies Thursday.
Authorities say the companies, both of which did business as FDAA, attempted to portray themselves as being affiliated with the federal government. They claimed in their marketing materials that they could help consumers claim a share of $200 billion in settlements supposedly paid out by credit card companies.
The companies "falsely advertised that they would eliminate or reduce consumers' principal balances by at least 60 percent, that creditors would be unable to collect the debts, and that the programs would increase consumers' credit scores," the bureau said in announcing the lawsuit.
Instead, authorities said the debt relief companies charged borrowers illegal upfront fees to enroll them in their programs, then advised them to stop paying their bills without warning them that they might be sued by creditors or debt collectors.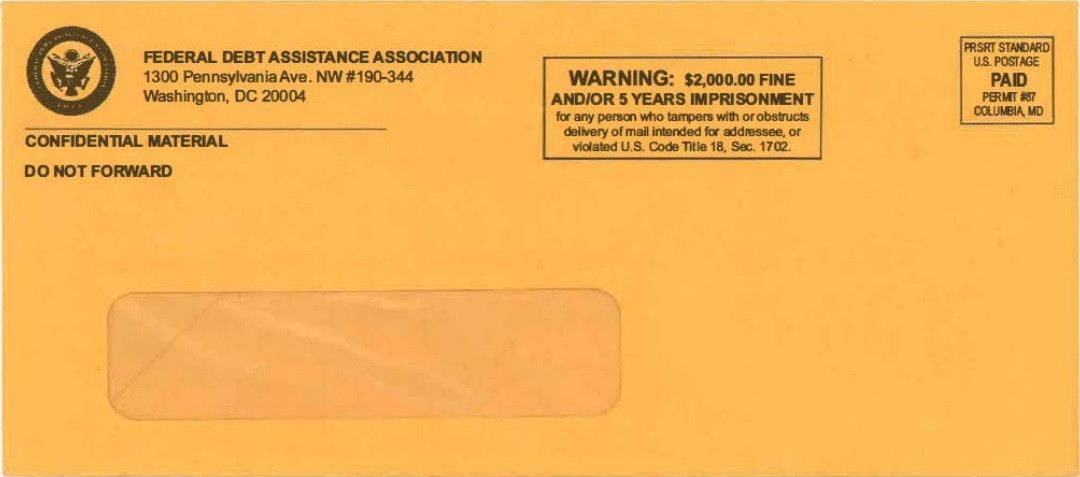 Direct mailers were sent in orange envelopes that included an official-looking seal and a Washington D.C. return address, although the companies doing business as FDAA were headquartered in Baltimore, Maryland.Source: Consumer Financial Protection Bureau.
The allegations against FDAA have not been proven in court. But the Better Business Bureau separately alleges that Federal Debt Assistance Association misused the BBB's name and logo, and racked up "a pattern of complaints concerning deceptive advertising, high pressure sales tactics, high up-front fees for service, and poor customer service."
In their complaint, federal regulators said FDAA "primarily relied on callbacks from direct mailers, voicemail drops, and avatar calls to attract consumers."
A voicemail drop is a prerecorded message that can be left on cellphone voicemails without making the phone ring.
Avatar calls play a prerecorded message when consumers answer their phone. FDAA's prerecorded messages invited consumers to press one to speak with a "federal debt specialist," the complaint said.
After piquing the interest of borrowers with promises of a share of settlements in class action lawsuits, the companies' marketing pitches referenced a real consumer protection in federal law — the right to dispute a debt that's been turned over to a debt collector.
But the companies falsely claimed that their "debt-validation services" would lead to the borrowers' debt being eliminated or reduced, the complaint said. Borrowers paid about $12,000 upfront for FDAA programs, or as much as $19,000 if they enrolled in installment plans.
---