Our goal is to give you the tools and confidence you need to improve your finances. Although we receive compensation from our partner lenders, whom we will always identify, all opinions are our own. Credible Operations, Inc. NMLS # 1681276, is referred to here as "Credible."
While people with higher credit scores tend to get better terms on their mortgage, you don't have to aim for the highest score possible.
Every mortgage program has its own minimum credit score requirements, and with a 700 credit score, you're likely to qualify for a loan and snag a good interest rate.
Here's what you need to know about credit scores of 700 or higher:
How good is a 700 credit score?
Mortgage lenders tend to group credit scores into ranges, and applicants within one range receive the same (or similar) interest rates. On a scale of 300 to 850, a 700 credit score usually falls into the "good" range.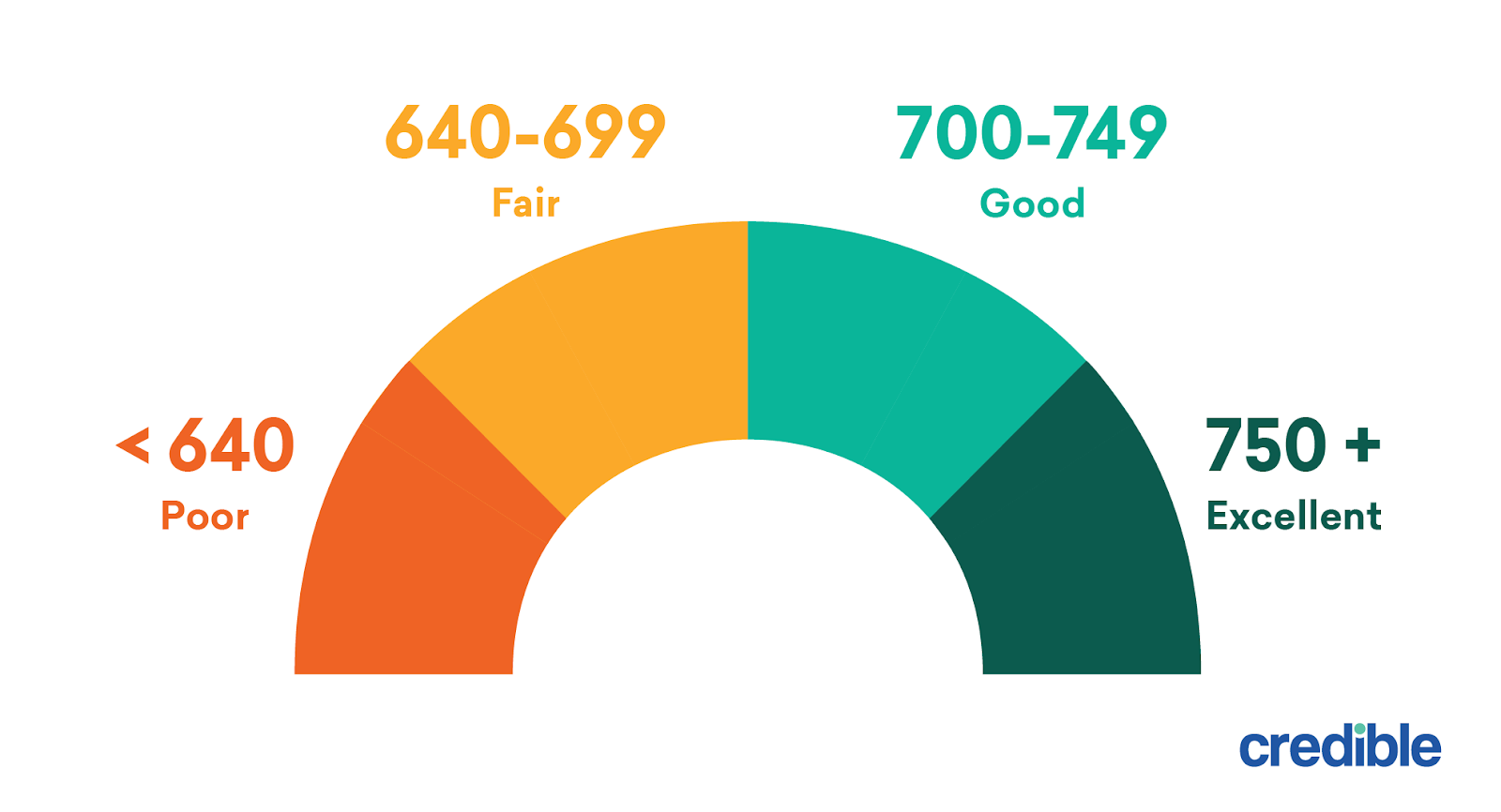 Having a credit score of 700 is advantageous because:
It can help you qualify for the loan. Most conventional and government-backed mortgage programs require a credit score of at least 640. So with a score of 700, you'll be able to check off that requirement.
You could have room to negotiate for better terms. Because you have a good credit score, lenders might be willing to negotiate the mortgage rate and other loan terms to compete for your business.
A good score can lead to lower interest rates. That's because credit scores help lenders predict risk, and a higher score lets them know you're likely to make payments on time.
Learn More: What Is a Mortgage Rate and How Do They Work?

Average mortgage rates for a 700 credit score
Credit scores are an important piece of the qualification process because lenders use them to predict whether you'll repay a loan as agreed. With a good credit score, you're likely to qualify for a home loan and receive a good interest rate.
The table below shows rate estimates from our partner lenders. You can fill in your financial information and select a credit score range of Good to see what kind of mortgage rates are available to you in your area.
Loading widget - purchase-rate-table
The rates in this table display an annual percentage rate (APR), which includes the loan's interest rate plus any fees and extra costs charged by the lender.
Because the APR reflects the total cost of borrowing, it's a good idea to compare this number when shopping for mortgages. Qualifying for a lower APR can help you save thousands of dollars over the life of the loan.
For example:
If you're taking out a 30-year, $200,000 mortgage with an APR of 2.99% (and assuming you put down 20%), your monthly payment would amount to $842 (not including taxes or insurance).
Someone with a credit score of 680, on the other hand, might get an APR of 3.17%. Their monthly payment would be $862.
While that's only a difference of $20 a month, it adds up over time. The person with the lower credit score would pay $7,200 more over the life of the loan.
While you should focus on getting your credit score as high as possible, it doesn't need to be perfect. Improving your credit score by just a few points might put you in the next credit score range and give you access to better rates.
Enter your loan information to calculate how much you could pay
?

Enter the total amount borrowed
$
?

Enter your annual interest rate
%
or
?

Enter the amount of time you have to repay your loan
years
Total Payment $
Total Interest $
Monthly Payment $
With a $ home loan, you will pay $ monthly and a total of $ in interest over the life of your loan. You will pay a total of $ over the life of the mortgage.
Learn More: APR vs. Interest Rate: Understanding the Difference
Other factors behind your mortgage rate
While a good credit score can help you qualify for a loan and lower interest rate, it isn't the only factor behind a mortgage offer.
Lenders take the broader economy into account and look at the details of your overall financial situation when determining rates. For example, they consider many of the following factors:
Larger economic factors
Personal economic factors

Strength of the economy
Inflation rates
Employment
Consumer spending
Housing construction and other market conditions
Stock and bond markets
10-year Treasury yields
Federal Reserve policies

Credit score
Credit history
Down payment size
Loan-to-value ratio
Loan size, type, and term
Debt-to-income ratio
Location of the property
You have control over some of these factors, which gives you a better chance at scoring a low interest rate.
Down payment: Every mortgage program has its own down payment requirements, starting as low as 0% or 3% for some qualified borrowers. But if you can afford to put down at least 20%, then you won't have to pay private mortgage insurance and might qualify for a lower interest rate.
Loan size: Making a hefty down payment has yet another advantage: It shrinks your monthly mortgage bill since you're borrowing less money. And because that poses less risk for the lender, they could lower your interest rate.
Loan term: While shorter loan terms have higher monthly payments, they tend to come with lower interest rates because the lender is taking on less risk.
Debt-to-income ratio: Lenders check your debt-to-income ratio to see how much you earn each month and how much of that goes toward debt payments. Generally, a DTI ratio of 45% or less can help you qualify for a loan. But a lower ratio can help you get a better interest rate.
Shopping around and comparing rates from different lenders is one way to ensure you get a great rate on your next mortgage.
Credible can help you compare our partner lenders — it's free, and you don't even have to leave our platform.
Credible makes finding a mortgage easy
Streamlined form: It only takes 3 minutes to see loan options that might work for you. You'll be able to compare multiple lender options — all in one place.
Compare options: Compare loan options from multiple lenders without affecting your credit.
Get matched with a mortgage lender: Once you've made a selection, you'll be connected with the lender of your choice.
Home loan options for a 700 credit score
A credit score of 700 can help you qualify for one of the major mortgage programs. Here are your main options:
FHA loans
Mortgages insured by the Federal Housing Administration are popular with first-time homebuyers because they have flexible credit score and down payment requirements.
If you have a credit score of at least 580, you could qualify for an FHA loan, and you'd only be required to put down 3.5%. With a credit score in the 500-to-579 range, you could qualify with a down payment of at least 10%.

Upsides: Relaxed credit score and down payment requirements.
Downsides: Most FHA loan borrowers have to pay mortgage insurance, both as an upfront premium and as a monthly cost baked into the mortgage payment.
VA loans
This type of mortgage is backed by the U.S. Department of Veterans Affairs and requires no down payment and has no minimum credit score. However, borrowers will have to pay a funding fee that ranges from 1.4% to 3.6% of the home's purchase price.

Upsides: You don't have to make a down payment or pay for mortgage insurance.
Downsides: VA loans are only available to eligible military members, veterans and surviving spouses.
USDA loans
A USDA home loan comes in two forms: direct and guaranteed. Direct loans are funded by the U.S. Department of Agriculture, while guaranteed loans are funded by private lenders and backed by the USDA.
These mortgages don't come with a down payment, and credit score requirements start at 620 (though some lenders might raise the requirement to 640).

Upsides: You could qualify with a credit score as low as 620.
Downsides: You must buy a home in an eligible rural area and meet income requirements.
Conventional loans
To qualify for a conventional mortgage, you'll typically need a credit score of at least 620 and a minimum down payment of 3%. These mortgages aren't backed by government agencies. Instead, the lender usually sells the loan to Fannie Mae or Freddie Mac.

Upsides: You can avoid paying private mortgage insurance by putting down at least 20%. With a smaller down payment, you can cancel PMI once the loan balance reaches at least 80%.
Downsides: The minimum credit score requirement is 620, which is higher than what the FHA requires.
Jumbo loans
A jumbo loan is a mortgage with a balance that's higher than the conforming loan limit for the county in which you're buying or refinancing. In most places, the conforming loan limit is $548,250. But in some higher-cost markets, the loan limit rises to $822,375.
You'll typically have to put down between 10% and 30%, and the credit score requirements usually start around 680 or 700.

Upsides: A jumbo loan could help you buy a home in a market with high home prices.
Downsides: The down payment requirements are higher than other mortgage programs, so you'll need to save up a decent chunk of change.
How to raise your credit score
While a 700 credit score can help you qualify for a mortgage, you might get better loan terms by boosting your score — which could save you thousands of dollars over the life of the loan.
If you've been monitoring your credit, you have a good idea of where your credit score stands.
Here are some ways you can improve your credit scores:
Pay down your debt balances.
Always make payments on time. Automatic payments or monthly alerts can help.
Become an authorized user on someone else's credit card account.
Only open credit accounts that you need.
If some of your accounts are delinquent or you have a large amount of debt, consider contacting a credit counseling agency.
Keep Reading: How Your Credit Score Impacts Mortgage Rates