Our goal is to give you the tools and confidence you need to improve your finances. Although we receive compensation from our partner lenders, whom we will always identify, all opinions are our own. By refinancing your mortgage, total finance charges may be higher over the life of the loan.
Credible Operations, Inc. NMLS # 1681276, is referred to here as "Credible."
Whether you're a first-time homebuyer or you're looking to move into your second home, buying a home is a big financial decision.
It can also be somewhat complex, so to make it easier to navigate, you'll want to know what to expect. Following this guide will help you learn how to get a mortgage.
How to get a home loan – step by step: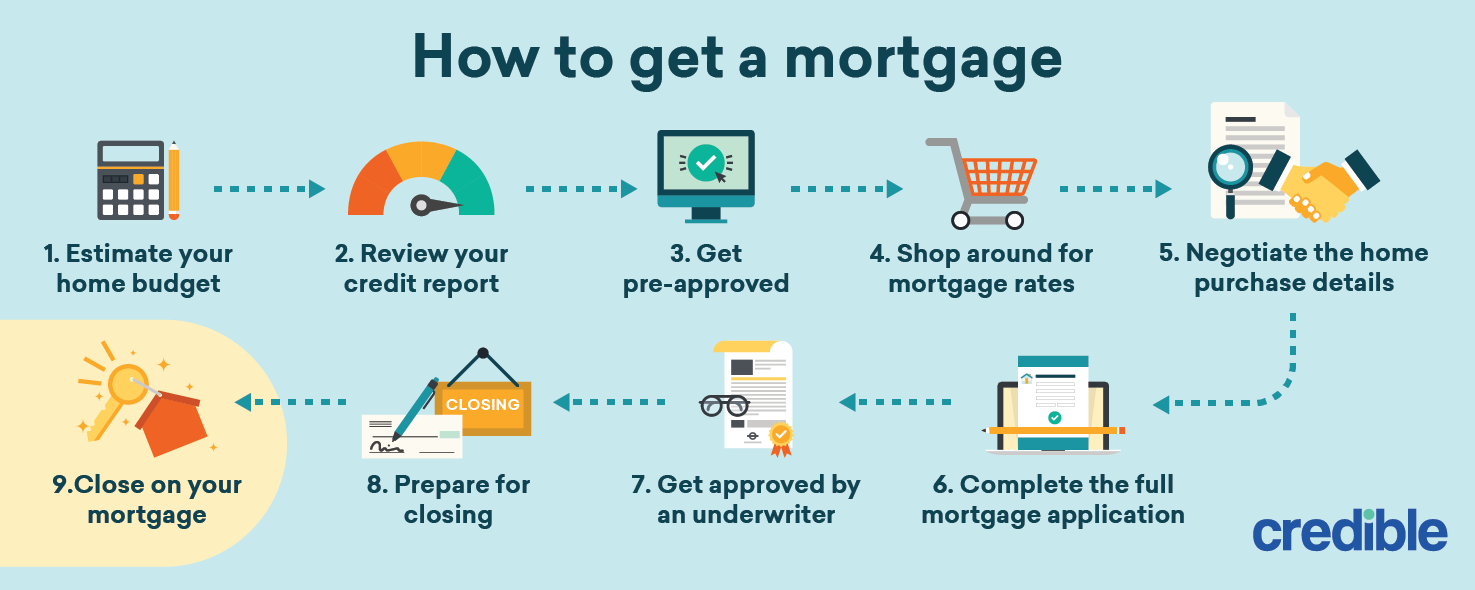 1. Estimate your home budget
Once you know your credit is on-par for a mortgage, it's time to figure out how much house you can afford. To do this, you'll need to estimate your full purchase price, down payment, and monthly costs.
The monthly costs of owning a home are very different from renting. You'll have to pay your mortgage principal and interest, property taxes, homeowner's insurance, and any maintenance and any homeowners association fees. Many well-intentioned first-time buyers are surprised by the cost of taxes, insurance, and repairs. A good estimate helps you avoid overspending.
See what your estimated monthly payment will be using our mortgage calculator below.

Enter your loan information to calculate how much you could pay
?

Enter the total amount borrowed
$
?

Enter your annual interest rate
%
or
?

Enter the amount of time you have to repay your loan
years
Total Payment $
Total Interest $
Monthly Payment $
With a $ home loan, you will pay $ monthly and a total of $ in interest over the life of your loan. You will pay a total of $ over the life of the mortgage.
---
Need a home loan?
Credible makes getting a mortgage easy. It only takes 3 minutes to see if you qualify for an instant streamlined pre-approval letter.
Find Rates Now
Checking rates won't affect your credit score
To avoid the added cost of private mortgage insurance (PMI), you'll want to put down at least a 20% down payment. Check out this handy calculator from Freddie Mac.
Good to know:
Some lenders and loan programs are designed to help people buy a home with less than 20% down. While this is a common method to buy a home, a
lower down payment
leads to a higher monthly mortgage payment and the added cost of private mortgage insurance.
2. Review your credit report
The first step in getting a mortgage is checking your credit. Your credit is a major factor in getting approved for a mortgage, so you should start by making sure your credit is on-track for mortgage approval.
A credit score in the mid-700s or higher can get you the best interest rates, according to the CFPB. If you have a score below 620, however, you might struggle to get approved. If you want to improve your credit before moving forward, learn more about how to build or repair your credit to improve your approval odds or help you get a better rate.
3. Get pre-approved
Once you've narrowed down your list of preferred lenders, it's time to get pre-approved. This is a less-thorough approval process than you'll deal with later, but it gives you the green light to make a solid offer on a home. If pre-approved, you should get a pre-approval letter from the lender telling the seller that you're good for a purchase up to a certain limit.
Note that pre-approval is not the same as prequalified. Prequalified is better for buyers who have not yet started looking at properties. If you're serious about buying, you should get a full pre-approval.
Tip:
Getting multiple pre-approvals can take a lot of time. But Credible simplifies the process, allowing you to sign back into your dashboard and generate a new Instant Streamlined Pre-approval Letter anytime you need one to present to your
real estate agent
in seconds.
Learn More: How to Get a Mortgage Pre-approval
4. Shop around for mortgage rates
Because mortgages are typically so big, a difference in rates can lead to a difference of tens of thousands of dollars over the life of your loan. That's why it's important to shop around for the best mortgage rate for your situation. When comparing lenders, focus on finding the lowest interest rate and lowest closing fees.
Credible makes comparing multiple lenders quick and easy. You can see your rates from our partner lenders in the table below in three minutes.
Loading widget - purchase-rate-table
5. Negotiate the home purchase details
Now it's time to get into the nitty-gritty of the home loan process. You'll work with your trusted real estate agent to make an offer and negotiate the best price.
Next, you'll lock in the final price and any concessions from the seller, for example helping with closing costs or making repairs before the sale. This is one of the most important steps in controlling your costs when purchasing a home.
Find Out: How to Buy a House: Step-by-Step Guide
6. Complete the full mortgage application
Once your offer has been accepted, it's time for the full mortgage application. This is a very detailed form that asks about your income, savings, monthly expenses, and other questions to ensure you're able to afford the mortgage if approved.
Make sure to be thorough and detailed. Skipping a section or making a mistake could lead to a declined application which could lengthen the homebuying process.
Read On: Mortgage Qualifications: How to Qualify for a Mortgage
7. Get approved by an underwriter
Your mortgage agent will hand off your application to the underwriting team – a group of number crunchers who make the final approval decision for your loan. It's possible you'll see requests for financial statements, pay stubs, tax returns, and other supporting information. Try to hand this information over as quickly as possible to expedite your loan approval and closing.
Here are some steps that take place during the underwriting process:
Inspection: An inspector comes to the house at your expense to make sure everything is in good working order. You might be able to back out of the purchase based on a bad inspection or might want to request additional repairs.
Appraisal: The lender will send an appraiser, at your expense, to take pictures and compare to other nearby home sales to make sure they are not lending more than the property is worth.
Credit review: The underwriter will take a deep-dive look at your credit report and monthly payment obligations to ensure you're a good risk and can afford the loan.
Employment and income review: A lender wants to know you are employed and confirm the income you receive monthly. Your recent employment history and recent pay stubs can help satisfy this requirement.
If you're self-employed, you might have to give copies of your business financial reports as well. Don't be surprised if you get multiple requests as the underwriter combs through your application details.
Find Out:
8. Prepare for closing
You've made it to the home stretch! You should get the news that your loan is approved or conditionally approved waiting on some additional forms or criteria. If you're conditionally approved, hurry up and meet those conditions. Here are some steps to take before closing:
Put it on the calendar: Get your closing scheduled and clear your calendar. Closing can take an hour or so as you sign your name 100+ times.
Arrange payment: Your down payment and other fees will have to be covered by bank wire or cashier's check. Work with the title company if you have any questions.
Buy insurance: Lenders require homes to be covered by a minimum level of homeowner's insurance. Shop around and have a policy ready to go on closing day.
Review closing disclosure: The lender will give you a closing disclosure and closing documents ahead of signing. Take the time to review everything for errors and make sure you know what you're signing.
Tip: Taking the time to prepare for closing helps you avoid any surprises and makes sure the closing goes through without any problems.
9. Close on your mortgage
It's the big moment. Show up to your closing and sign your paperwork. The only people that have to be present for closing are you (plus a cosigner if applicable) and a notary. However, someone from the title company, lending company, and your agent might be there as well.
Plan on showing your ID, if not two, and signing and initialing multiple forms. Closing documents with a mortgage can easily be over 100 pages. You won't have to sign every single one, but you'll feel like a celebrity with a tired hand after signing so many autographs.
When you sign on the last line, the home is yours! If all went well, you might even get the keys at closing.
Congrats on being a homeowner!
Credible makes getting a mortgage easy
Actual personalized rates: In 3 minutes, get actual prequalified rates without impacting your credit score
Smart Technology: We streamline the questions you need to answer and automate the document upload process
End-to-end experience: Complete the entire process from rate comparison to closing all on Credible