Our goal is to give you the tools and confidence you need to improve your finances. Although we receive compensation from our partner lenders, whom we will always identify, all opinions are our own. Credible Operations, Inc. NMLS # 1681276, is referred to here as "Credible."
From 2006 through 2022, average federal student loan interest rates were:
4.60% for undergraduates
6.16% for graduate students
7.20% for parents and graduate students taking out PLUS loans
---
Are your rates higher than average?
See what rates you could get using Credible's rate estimator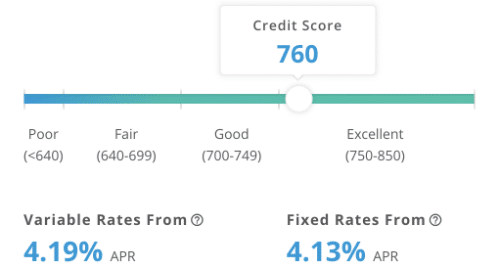 *Rates displayed above are estimates based on your self-reported credit score and should only be used for informational purposes.
---
Know your rates before you owe
Knowing student loan interest rates for both federal and private student loans can help you make informed decisions when refinancing student loans or applying for private student loans, saving you money and giving you peace of mind.
Because rates on federal student loans to new borrowers are adjusted annually, a student who takes out federal student loans as a freshman can expect to pay different rates on loans they take out each academic year.
For example, if you were paying 7% interest on a 15-year, $50,000 loan, you'd pay almost $10,000 in additional interest charges compared to a borrower taking out the same loan with a 5% interest rate.
If you decide to get a private student loan, be sure to consider as many lenders as possible so you can find the right loan for your needs. Credible makes this easy: You can compare your prequalified rates from multiple lenders in two minutes — without affecting your credit.
Loading widget - embedded-prequal
Federal student loan interest rates 2021-2022
While rates on federal student loans fell to the lowest levels in history on July 1, 2020, they've risen somewhat for the 2021-2022 academic year. If you're taking out federal loans through June 30, 2022, here are the rates you can expect:
3.73% for undergraduates
5.28% for graduate students
6.28% for parents and graduate students taking out PLUS loans
Although they're no longer being issued, Perkins Loans have a fixed interest rate of 5% regardless of the first disbursement date and were given to those with exceptional financial need.
What kind of loan do you have and when were the funds disbursed?
The interest rate on your federal student loan will depend on the type of loan that you have and when the funds were disbursed.
Once you take out a federal student loan, the rate is set for life. But rates for new borrowers are adjusted annually, tracking yields on 10-year Treasury notes that reflect the government's cost of borrowing.
As the chart below demonstrates, you can expect to have different interest rates on the loans you take out each year you're in school.
It's important to remember that these federal student loans all have upfront fees associated with them. The upfront fee on PLUS loans can increase the annual percentage rate (APR) by more than 1 percentage point!
Find out: Test Your Knowledge of Student Loan Interest Rates
What are average interest rates on private student loans?
During the week of Dec. 6, 2021, the average private student loan interest rates for borrowers using the Credible marketplace were:
4.12% for borrowers taking out five-year variable-rate loans
5.72% for borrowers taking out 10-year fixed-rate loans
Rates on private student loans vary from lender to lender. Federal loans for undergraduates generally have lower interest rates than private loans. However, rates offered by private lenders can be competitive with rates on federal loans for graduate students and parents, including PLUS loans.
While rates on federal student loans are "one-size-fits-all," private lenders offer lower rates to borrowers with good credit scores. Since most students don't have the credit history and earnings to qualify for a private student loan on their own, most private student loans are cosigned by a parent or other relative. Having a cosigner can help borrowers get a significantly lower interest rate.
An analysis of thousands of rate requests submitted to the Credible marketplace over the course of a year found that adding a cosigner reduced the lowest prequalified interest rate by 2.36 percentage points.
Keep in mind that the shorter the loan term, the lower the interest rate offered by most lenders. In addition, private lenders typically offer a choice of variable- or fixed-rate loans. Borrowers taking out variable-rate loans can start out with a lower rate, but that rate can fluctuate over the life of the loan (for more on this topic, see "How to Choose Between a Fixed-Rate or Variable-Rate Student Loan").
Most private lenders also offer fixed-rate loans, at rates that can be competitive with federal PLUS loans for parents and undergraduates. PLUS loans carry a 4.236 percent up-front disbursement fee that's not charged by private lenders. As NBC Nightly News reports, parents with high-interest PLUS loans are often able to refinance them with private lenders at lower rates (see, "Parents can refinance student loans they take out for their kids.").
What is your average student loan interest rate?
If your loans were provided by the government, the rates on each loan may be found on the chart above. If you have more than one loan with different interest rates, your average interest rate will be somewhere in between.
If you combine your government student loans into a single federal Direct Consolidation Loan, you won't get a lower interest rate. Your interest rate will be the weighted average of the rates on your existing loans, rounded up to the nearest 1/8th of a percentage point.
Your average interest rate may depend on your field of study, profession or loan provider. Graduate students tend to have loans with higher interest rates.
You can also consolidate private and federal student loans by refinancing them, potentially at a lower interest rate.
How does your rate compare?
Wondering if your current interest rate is competitive? If not, this does not mean that you can't do anything about it.
You may qualify to refinance at a lower rate with a private lender. Keep in mind that borrowers refinancing federal loans with a private lender lose government benefits like access to income-driven repayment programs and the potential to qualify for loan forgiveness.
Credible makes refinancing your student loans easy. You can compare your prequalified rates from top lenders without having to share any sensitive information or authorizing a hard credit pull.
Keep Reading: How to Know if Your Student Loan Interest Rates Too High