Our goal is to give you the tools and confidence you need to improve your finances. Although we receive compensation from our partner lenders, whom we will always identify, all opinions are our own. By refinancing your mortgage, total finance charges may be higher over the life of the loan.
Credible Operations, Inc. NMLS # 1681276, is referred to here as "Credible."
Unlike federal student loans, private student loans are funded by private lenders and don't qualify for student loan forgiveness.
However, there are other options that might help you more easily manage private student loans, such as student loan refinancing.
Here's what you should know about alternatives to private student loan forgiveness (and other situations to keep in mind):
Do private student loans go away after 7 years?
Unfortunately, private student loans don't ever go away. What you borrow is what you'll have to pay back — along with interest and potential fees.
Only federal student loans are eligible for student loan forgiveness programs, such as Public Service Loan Forgiveness or income-driven repayment forgiveness.
Additionally, the suspension of payments and interest accrual under the CARES Act due to the COVID-19 pandemic is available only for federal student loans.
Tip:
While private student loans don't qualify for these government-level loan benefits, private lenders sometimes offer various types of assistance for borrowers experiencing certain situations, such as financial hardship or military deployment.
For example, you might be able to access emergency deferment and forbearance options if you've been negatively impacted by COVID-19 and have private student loans. If you're struggling to make private student loan payments, be sure to contact your lender to see what assistance might be available to you.
Learn more: Debt Relief Programs: Options to Reduce Debt

Talk to your lender about your options
Private student loan lenders often have programs available for borrowers experiencing financial hardship. These might include temporarily pausing your loan payments, modifying your loan, or exploring private student loan consolidation.
Contacting your lender is usually the best way to see what private student loan repayment options are available for you. Be sure to reach out to your lender before skipping payments and defaulting on your loans, as this will harm your credit score.
Keep in mind that if you have a cosigner, missing payments could hurt their credit, too.
Tip:
Some lenders might also be willing to offer a loan modification, which could include options for making interest-only payments or reducing your interest rate for a short amount of time.
While loan modification won't wipe out your balance, it could help alleviate some of the strain from your monthly payments temporarily. Contact your lender to find out if this is an option for you.
Check Out:
Refinancing your private student loans could help lower your payments
If you're not excited about a growing student loan balance while in deferment or forbearance, student loan refinancing might be a good alternative. When you refinance your student loans, you pay off your old student loans with one new loan.
With refinancing, you might be able to qualify for a lower interest rate or lower your monthly payment by extending your repayment term. But keep in mind that a longer repayment period also typically comes with a higher interest rate — which means a higher total cost.
For example:
If you have a student loan that will take five years to pay off, extending your repayment term to seven or 10 years should lower your monthly payment.
With a $10,000 balance, a five-year loan at 3.5% APR would require a $182 monthly payment. If you refinanced to a 10-year loan with a higher 4% interest rate, your payments would be only $101 per month.
However, while you'd pay a total of $10,920 with the five-year loan, you'd end up paying $12,120 with the 10-year loan. This means you'd pay about $1,200 more over time to get that lower monthly payment.
Enter your current and new loan information into the student loan refinancing calculator below, and see how much you can save by refinancing your student loans.
Step 1. Enter your loan balance
?

Enter the remaining amount of the loans you'd like to refinance
$
Step 2. Enter current loan information
?

Enter the average annual interest rate of the loans you'd like to refinance
%
?

Enter the monthly amount you currently pay on your loans (or enter remaining term)
$
?

Enter the amount of time left to repay your loan (or enter monthly payment)
years
Step 3. Enter your new loan information to start calculating your savings
?

Enter an estimated new interest rate.
%
?

Enter the monthly amount to pay on your new loan (or enter new loan term)
$
?

Enter the amount of time you have to repay your loan (or enter monthly payment)
years
Lifetime Savings
Increased Lifetime Cost
$
New Monthly Payment $
Monthly Savings
Increased Monthly Cost
$
If you refinance your student loan at % interest rate, you can save will pay an additional $ monthly and pay off your loan by . The total cost of the new loan will be $.
---
Does refinancing make sense for you?
Compare offers from top refinancing lenders to determine your actual savings.
Checking rates won't affect your credit score.
See: Why Lenders Say No to Refinancing Student Loans — and What to Do About It
---
Review your federal student loan options
Although private student loans don't qualify for forgiveness, there are federal options available if you have a mix of federal and private student loans. These include income-driven repayment and federal student loan forgiveness programs.
For example:
You might be able to lower your total payments by signing up for an income-driven repayment (IDR) plan for your federal student loans. By lowering your loan payment through an IDR plan, you could free up some of your monthly cash flow to put toward your private student loans and other bills.
On an income-driven repayment plan, you could have the remainder of your federal student loan balance forgiven after 20 to 25 years of payments, depending on the plan.
Here are the four IDR plans available: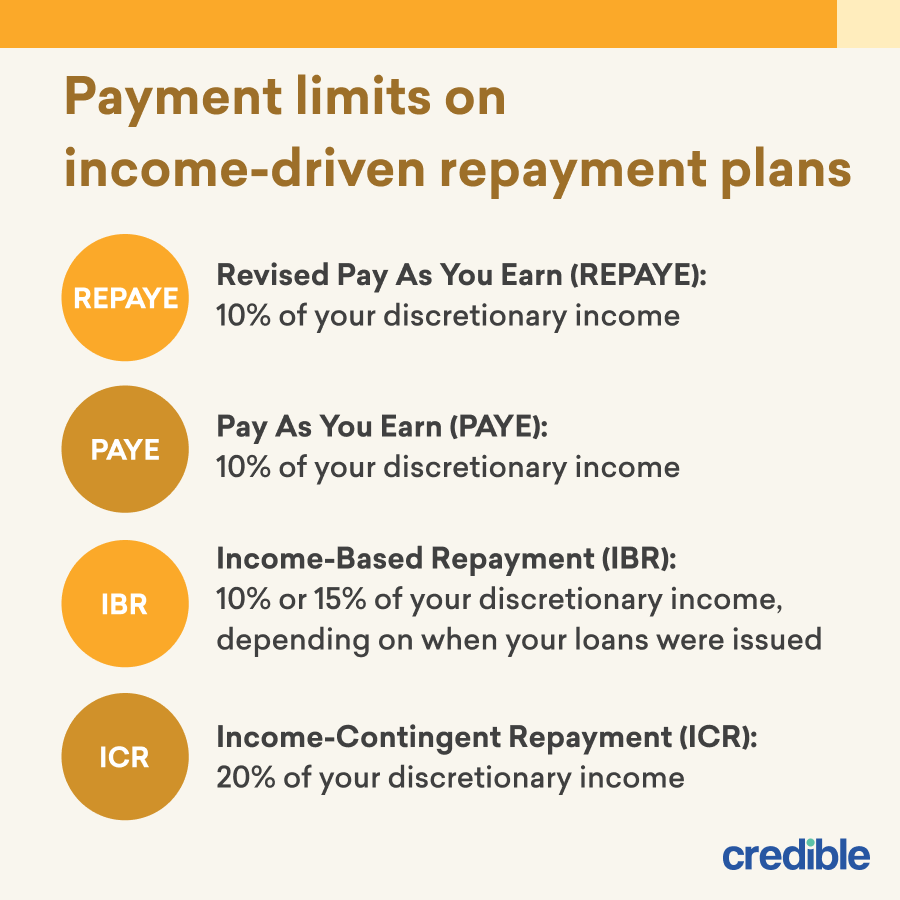 Learn More: How to Tell If Refinancing Your Student Loans Is a Good Idea

Check out loan repayment assistance programs
Depending on where you live, you might qualify for a state loan repayment assistance program. These programs sometimes offer assistance for private student loans if you meet the requirements.
For example: You might qualify for a state loan repayment assistance program if you live in
California
,
Florida
, or
Texas
.
It's a good idea to check whether your state offers such a program to help with private student loans.
Check Out: Applying for Student Loan Unemployment Deferment

Declaring bankruptcy may not dismiss your student loans
If you declare bankruptcy, you might be able to have some of your debts reduced or forgiven. But this should be a last resort, as it can impact your credit score for up to 10 years.
Even worse, bankruptcies typically exclude student loans unless you're able to prove an undue hardship, which isn't all that common.
The bankruptcy process can be expensive, too. You'll likely have to pay a lawyer and court fees. The total cost could be thousands of dollars, depending on your specific circumstances and which type of bankruptcy you file for.
Disability and death discharge
If you as a student loan borrower were to become permanently disabled, you might be able to have your remaining student loan balance discharged.
And while we especially don't want to think about this, if you were to pass away, your cosigner might be able to discharge the loan.
For private student loans, death and disability discharges are at the discretion of the lender. For example, Sallie Mae and College Ave both provide disability and death discharges.
How does student loan discharge affect a cosigner?
If a student loan is discharged, it will likely be listed as "discharged" on the cosigner's credit report.
Depending on the status of the loan before it was discharged, this might negatively impact their credit score.
In this case, it might be a good idea for the cosigner to speak with a financial expert before moving forward with a discharge.
Learn More:
Could President Biden forgive private student loans?
President Joe Biden and other politicians have proposed student loan forgiveness plans for federal student loans — but not for private student loans. If you've been crossing your fingers for a private student loan forgiveness COVID-19 relief package, it might not be on the horizon.
As for federal student loan forgiveness, it's still up in the air how much could potentially be forgiven. Here are the developments so far:
From Congress: U.S. Senate Majority Leader Chuck Schumer (D-NY), Sen. Elizabeth Warren (D-MA), and Rep. Ayanna Pressley (D-MA) are pushing for $50,000 in loan forgiveness per borrower to stimulate the economy and remove a financial burden from those struggling to pay off their student loan balances.
From the White House: Biden has backed a more modest cancellation of $10,000 in federal student loan debt per borrower but is facing pressure to cancel that amount and more through executive order. Instead, Biden has called on Congress to draft loan forgiveness legislation — but this has yet to happen.
Keep in mind: It may seem like no progress has been made toward widespread loan forgiveness, but there has been one major development: The American Rescue Plan of 2021 includes the Student Loan Relief Tax Exclusion, which ensures that student loan forgiveness between Jan. 1, 2021, and Dec. 31, 2025, will be tax-free.
Check Out: How Often Can You Refinance Student Loans?
Private student loan forgiveness doesn't exist, but there are options
Private student loan forgiveness isn't available, but that doesn't mean you should ignore your student loans if you're having trouble paying. Contacting your lender to see what your options are is a good first step to taking control of your loans.
Another alternative is refinancing your student loans. You might be able to lower your interest rate or monthly payment with refinancing.
If you decide to refinance, be sure to consider as many lenders as possible to get the right loan for you. You can do this easily with Credible — after filling out a single form, you can compare rates from multiple lenders in two minutes.
Loading widget - loan-score-tool